Cotton Cookie Toppings Build
Best Cotton Cookie Toppings- Complete Set Of Swift Chocolate (Most Recommended Toppings)
Cotton Cookie Toppings DMG Build- Complete Set Of Searing Raspberry (DMG Build)
Cotton Cookie Toppings For Survivability- Complete Set Of Solid Almond (DMG resistant Build)
Are you looking for the best Cotton Cookie Toppings? Well, you are in the right place because the Cotton cookie is one of my main and favorite support type cookies that I always use in the game. In this article let me share with you on what are the best toppings for Cotton Cookie.
Cookie Toppings Review
There are three best Cotton Cookie toppings that I highly recommend, the Swift chocolate toppings, Searing Raspberry toppings, and the Solid Almond toppings. Let me give you an insight into why these three toppings are the best for Cotton Cookie.
Table of Contents
Best Cotton Cookie Toppings- Complete Set Of Swift Chocolate
The best and my favorite toppings built for Cotton Cookie is a complete set of swift chocolate toppings. Cotton Cookie is a good support cookie its skill can restore its ally's cookies' HP periodically, summon creatures that can deal damage, and stuns the enemies.
A complete set of swift chocolate toppings is the best way to decrease its skill cooldown. Make sure that you max out the level of your topping to +12 with a cooldown bonus effect for maximum cooldown reduction.
Cotton Cookie Toppings For DMG Build- Complete Set Of Searing Raspberry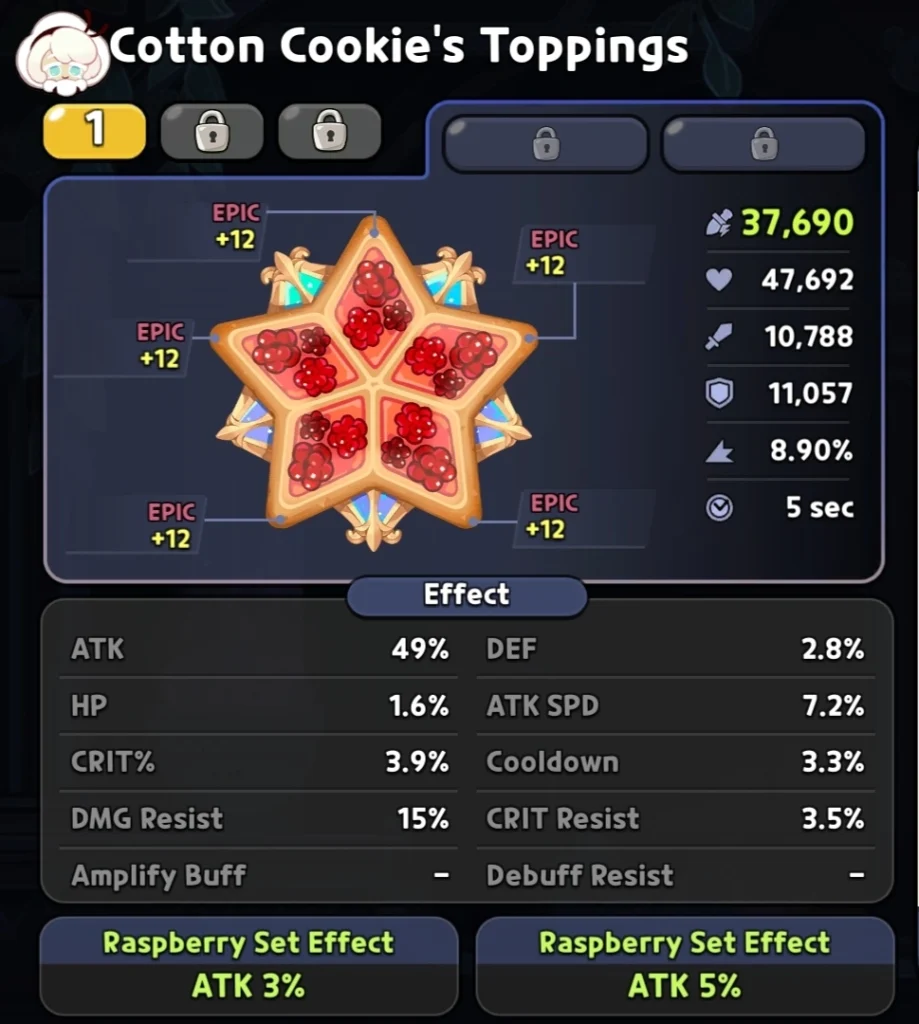 Another best topping to use for Cotton Cookie is a complete set of searing raspberry toppings. I personally often use a complete set of searing raspberries for Cotton cookies. Because of a reason that even Cotton Cookie is a support cookie, she has the potential to inflict huge damage on the enemies.
Her skill summons a sheep that deals damage to enemies, its skill also increases summoned creatures' attack which means that her sheep's base attack will also increase dealing more damage over time. Using a complete set of searing raspberries can maximize her damage and contribute a lot to the team's damage output in the arena or even PvE.
Cotton Cookie Toppings For Survivability- Complete Set Of Solid Almond
If you feel your Cotton cookie is a bit squishy, you can increase its survivability by using a complete set of solid almond toppings. The solid almond toppings amplify its damage resistance to survive in a hard clash combo of the enemies. Personally, I don't use solid almonds for Cotton Cookie because I usually use cotton cookies together with another healing cookie to increase her survivability and her allies.
My advice was only to use solid almond toppings for Cotton Cookie when your opponent in the arena is composed of crowd-control cookies. Those that have an incapacitating skill and stuns. The solid almond toppings can help your cookie survive before it can cast a healing skill.
Support Mirageportal By Buying A Drink
Cookie Run Kingdom Toppings Guide (Video)
You can also watch this video to be more familiar with Cookie Run Kingdom Toppings.
Related Content:
Cotton Cookie Skill
Skill Name: A Warm Light
Skill Description: When using skill, Cotton Cookie uses her lantern that shines a warm light. The light of her lantern restores all the cookies in her party periodically. Cotton Cookie also summoned a flock of sheep that charges at their enemies and deals AOE damage plus stuns all the enemies in the path.
After causing an area of damage each sheep will attack all the enemies dealing extra damage. Cotton Cookie lanterns also increase the ATK of all the summoned creatures including all the sheep that Cotton Cookies have summoned.
Skill Effects:
Healing: 9.9% of ATK every 1.0 sec for 9.0 sec (+0.08% per level)
ATK Increase 75% while the lanterns are lit
Sheep Herd: 124.5% of the Cookie's ATK. 157.8% of DEF, 111.4% of HP
Sheep Stamped: 150.0% DMG, stuns for 1.0 sec
Cotton Cookie Story
Cookie Run: Kingdom
Additional Info About Cotton Cookie
Type: Support
Position: Rare
Gender: Female
Bonds: Tea Knight Cookie, Eclair Cookie, Cocoa Cookie, Snow Sugar Cookie
Ways To Get Cotton Cookie
Gacha draw- 3000 crytals 10X draw, 300 crystals 1X draw
Gacha Mileage Shop- Use Mileage points
World exploration dark mode stages 8-12
Arena medal shop
Seaside market by chance
Frequently Ask Questions For Cotton Cookie
Is cotton cookie a good healer?
Yes, Cotton Cookie is one of my favorite supports and it never disappointed me, it was a very good healer. It was on par with Pure vanilla cookie for healing ability and can also deal massive damage to the enemies.
Is Cotton cookie overpowered?
No, Cotton cookie is not the greatest damage dealer in the game. She is a healer cookie that can deal damage and stuns enemies but is not overpowered since there are some support cookies that can inflict massive damage than her like Eclair.
Is cotton cookie worth it?
Yup, a Cotton cookie has all the characteristics of a great support. It heals all allies, inflicts damage, and stuns its enemies. It is one of my favorite support in the game and having one was really worth using in PvE and PVP.