Best Toppings For Kouign Amann Cookie
Best And Recommended Kouign Amann Cookie Toppings- Full Set Of Searing Raspberry Toppings
Alternative Kouign Amann Cookie Toppings- Mix Solid Almond + Raspberry Toppings
The best toppings for Kouign Amann Cookie is a full set of searing raspberry because Kouign Amann is already tanky. What we need to improve more was her damage since even though she is a defense type, she has a great potential to deal massive amounts of damage.
Best And Recommended Kouign Amann Cookie Toppings- Full Set Of Searing Raspberry Toppings
Kouign Amann Cookie is a defense cookie, her skill is mainly to enhance her damage and increase its attack speed. As a defense cookie, you can expect that Kouign Amann would be tanky enough to withstand attacks from the enemy.
So instead of using a full set of solid almonds, I recommend that the best toppings for her were a full set of raspberry. This toppings build can help to maximize her attack damage and when combined with her attack speed can produce a devastating effect on your opponents.
Substat For This Build
Crit Resistant
Damage Resistant
Cooldown
Alternative Kouign Amann Cookie Toppings- Mix Solid Almond + Raspberry Toppings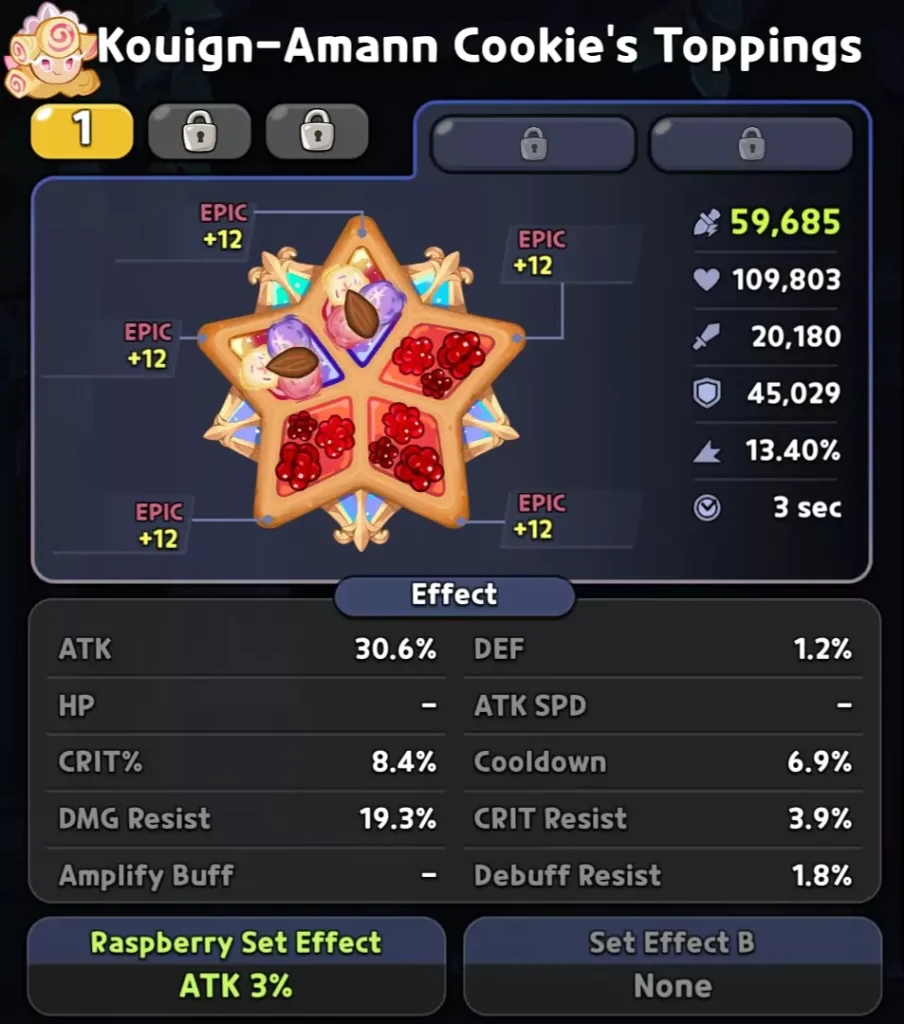 If you find that your Kouign Amann still dying more often with our searing Raspberry build or when facing tougher opponents in the arena. Try to add two solid almonds to it, your toppings will be three raspberry and two solid almonds.
These toppings build can give your Kouign Amann Cookie a damage boost of raspberry toppings plus a damage resistance of solid almond. These toppings are good if you planning to use your Kouign Amann Cookie as a single tank on your team composition.
How To Build Kouign Amann Cookie
Kouign Amann Cookie is a cookie that can enhance the damage of her normal attack, she can also enhance the attack speed of her allies with the highest attack speed. Kouign Amann Cookie is a kind of cookie that you can include in the attack speed team composition.
A kind of team that are focusing on attack speed rather than burst damage, below are some ideas on how to build your Kouign Amann Cookie.
Kouign Amann Cookie Best Team
Kouign Amman Cookie is a defense type that has the potential to deal massive damage. To maximize her damage output I recommend using Mint Choco Cookie as her support.
Adding Mint Choco Cookie to your team can increase the attack speed even more since Mint Choco Cookie's skill enhance the attackspeed of his allies which is perfect to pair with Kouign Amann.
Kouign Amann Cookie Treasure
Another thing that you should consider when building your Kouign Amann Cookie is the treasure. Since Kouign Amann will be included in the attack speed team composition, I recommend using a treasure called "Labrarian's Enchanted Robes".
This treasure can increase the attack speed of two of your cookies with the highest attack speed, when using Kouign Amann don't forget to use equip this treasure.
Kouign Amann Cookie Skill
Skill Name: Paladin's Way
Skill Description:
After using the skill, Kouign-Amann Cookie channels the Power of the Light, enhancing her regular attacks: they deal Light-type DMG and extra DMG whenever she gains an ATK SPD buff. Kouign-Amann Cookie will also increase the ATK SPD of the two Cookies with the highest ATK SPD, make all her allies resistant to ATK SPD debuffs, and increase the Light-type DMG dealt by other Cookies.

When the skill's duration reaches its end, Kouign-Amann Cookie will gather the Power of the Light and perform a powerful attack, partially ignoring the target's DMG Resist with a swing of her sword. Having no fear of defeat, Kouign-Amann Cookie will increase her DMG Resist and Regular Attack ATK SPD whenever she gains a debuff. While Kouign-Amann Cookie is using her skill, she will briefly become resistant to interrupting effects.
Skill Effects:
Stronger Regular Attacks:182.0% of ATK
Extra DMG per ATK SPD Buffs: +22.5% per x1 ATK SPD buff
ATK SPD: +25.0% for 8.0 sec; stacks up to x1
ATK SPD Debuff Resistance: +50.0% for 12.0 sec; stacks up to x1
Light-type DMG: +20.0% for 10 sec; stacks up to x1
Light Strike DMG:375.8%; ignores 17.5% of target's DMG Resist
Regular Attack ATK SPD: +4.0% for 8.0 sec; stacks up to x10
Path of a Paladin: DMG Resist +12.5% for 15.0 sec upon gaining a debuff; stacks up to x2
Kouign Amann Cookie Story
The Crème Knights is a noble institution, known not only for its rich tradition of ceremony and good deportment but also for the frilly dress-wearing Paladin: Kouign-Amann Cookie! Don't let her lovely appearance distract you; this Cookie is blessed by the Light itself and can defeat even experienced Paladins with just a swing of her sword. Kouign-Amann Cookie always stays true to her path and fights with honor, so it's no wonder the whole school looks up to her.

There was a time when the fear of defeat and disappointing those around her troubled Kouign-Amann Cookie greatly, but instead of running away she faced those fears and conquered the insecurity within herself. For those of you fearless enough to duel this honorable Paladin, may you have a strong conviction and a brave heart! After all, nothing motivates Kouign-Amann Cookie more than battling opponents who have already battled themselves!

Cookie Run Kingdom
More Toppings Guide
If you want to share your thought about Cookie Run Kingdom or share your expertise join the forum section of this website. It's free see you there.