Madeleine Cookie Toppings Build
Best Madeleine Cookie Toppings Build- Solid Almond Toppings (Tank Build)
Madeleine Cookie Toppings Build- Searing Raspberry Toppings (DMG Build)
Madeleine Cookie Toppings Build- Bouncy Caramel Toppings (ATK SPD Build)
Madeleine Cookie Topping Build Overview
The best toppings for Madeleine Cookie are complete with solid almond topping, this is the most important toppings built for Madeleine Cookie. Because he is always in the frontmost part of the formation. A searing raspberry is also worth using when you want your Madeleine cookie to inflict more damage on the enemies.
Best Madeleine Cookie Toppings Build- Solid Almond Toppings (Tank Build)
The best Madeleine Cookie toppings are a complete set of Solid almond toppings. For the reasons that Madeleine Cookie is a defense-type cookie and most of the time he is in the front most part of the formation.
As a defense-type cookie, survivability is vital for defense build. Most of the time when the front line gets defeated it is much easier for the enemies to eliminate the other cookie in the formation. It was because the frontmost part of your cookie formation will absorb much of the enemy damage.
Using solid almond toppings built for your Madeleine Cookie is highly recommended to increase his survivability by absorbing more damage from the enemy cookies.
Madeleine Cookie Toppings Build- Searing Raspberry Toppings (DMG Build)
Aside from being a defense cookie, Madeleine has also a good potential to inflict a huge amount of damage on enemies. Thanks to his skill, he converts his attack to a ranged attack that causes area damage.
His skill also makes Madeleine cookie attack faster with a knockback effect. Because of his skill, I also recommenced using a complete set of Searing Raspberry toppings. Using these toppings can maximize his damage output on the battlefield.
Madeleine Cookie Toppings Build- Bouncy Caramel Toppings (ATK SPD Build)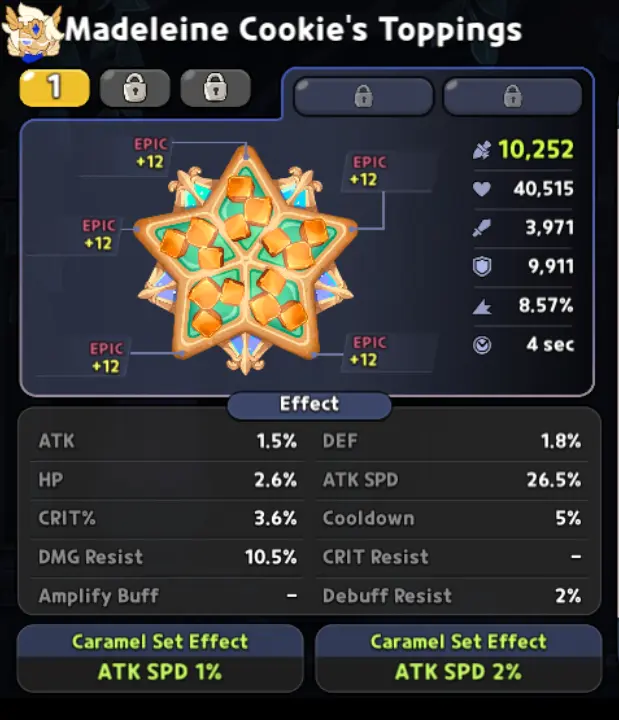 Another set of toppings that is effective to use for Madeleine Cookie is a complete set of Bouncy Caramel Toppings. These toppings are highly effective if you are using an ATK speed team composition.
When Madeleine Cookie uses his skill, its attack speed also increases. When you use Bouncy Caramel toppings, his attack speed will increase even more. Combined with AOE damage plus a knockback effect, these toppings build was really effective, especially in the arena.
Also Read:
Madeleine Cookie Skill
Skill Name: Commander's Honor
Skill Description: Madeleine Cookie is a melee cookie, but when he used his skill Madeleine's attack changed into a ranged attack with area damage. In this form, his attack speed increase, and knocks back his enemies while attacking. Madeleine Cookie also receives a buff that makes him immune to debuff.
Skill Effects:
Ranged attack: 10.0 sec
Immunity for 10.0 sec
Single hit DMG: 108.0% (+1.45% DMG per level)
Madeleine Cookie Story
An offspring of a noble Cookie family from a peaceful republic across the ocean, Madeleine Cookie, armed with his family's influence and shiny new armor, is already the Commander of a knight order. On the day of his Commander's Oathtaking, Madeleine Cookie dedicated himself to the Divine and was granted the Sword and Shield of Radiant Light, which he prizes the most among his numerous possessions.

The glorious Knight Commander's usual duties included trotting around the city on his snow-white sugar horse or letting his heavy cape flutter dramatically on the wind during his sparring sessions. Not too long ago, the heroic Madeleine Cookie set on a quest in search of the legendary Jam of Souls capable of granting Cookies eternal life! Will the noble paladin's first campaign bear fruit?

Cookie Run: Kingdom
Ways To Get Madeleine Cookie
World Exploration Dark Mode Stages 7-21 and Stages 10-24
Gacha- Using 3000 crystals for ten times draw or 300 crystals for a single draw.
Mileage Shop- Spend 2000 Mileage points in exchange for 20 Financier Cookie Soul stone
Arena Medal Shop (by chance after refresh)
Rainbow Shell Gallery (by chance after refresh)
Seaside Market (by chance after refresh)
Guild Medal Shop (by chance after refresh)