NeuronWriter Review 2023: Best Content SEO tool and AI writer
Summary
Is Neuronwriter worth it? Yes, based on my own experience Neuronwriter is probably the best alternative to Surfer SEO for content SEO optimization. It provides granular control for a content editor, analyzes top competitors, and provides lots of data that you can use to outrank your competitors.
Pros
Optimized your content 
Great Competitor analysis 
Granular Level SEO Optimization
AI-powered SEO tool
Affordable
Cons
One-click long-form AI is a decent AI writer
No keyword research tool
Limited content writer analysis for every month
In an era where technology is ceaselessly advancing, we're often left astounded by its remarkable ability to aid us in various aspects of life. Ever come across a tool that feels like a writing companion, dedicated to enhancing your skills?
Allow us to introduce you to an SEO tool NeuronWriter – an AI-driven writing assistant engineered to elevate your writing game while ensuring your unique voice and style shine through. In this blog piece, we're set to explore all the features of NeuronWriter, shedding light on its inner workings and envisioning its potential as an invaluable asset in your writing journey. 
The march of technology has been nothing short of phenomenal, and NeuronWriter stands as a testament to its influence on writing.
In today's world of publishers, AI has been rejected by many– but this is the future If you don't ride the wave you are going to leave behind. It is wiser to use the technology available to our advantage to make our blog grow and increase its traffic.
NeuronWriter is an AI-powered content writing and editing tool that aims to improve your SEO rankings and enhance your content. In this NeuronWriter review, we will explore how to use the tool for optimizing content, its pros and cons, alternatives, pricing, key features, and customer support.
What Is Neuronwriter?
NeuronWriter is an exceptional AI writer and content editor that takes the concept of content creation to a whole new level.
With its advanced capabilities in crafting SEO content and optimizing your writing, NeuronWriter emerges as the quintessential AI content tool for writers of all levels. Whether you're looking to enhance your content terms, fine-tune your articles for optimal SEO, or simply seek a reliable assistant to aid you in generating quality content, NeuronWriter has you covered.
This ingenious tool acts as a guiding hand, allowing you to effortlessly improve your content and transform it into something truly remarkable. NeuronWriter is more than just a content writing tool; it's a powerhouse that assists you in creating, refining, and delivering great content consistently.
How NeuronWriter Works
NeuronWriter is a powerful AI-based tool for SEO writing and enhancing content that can significantly enhance your online presence by ensuring your content ranks high in search engine results.
As a content creator, you know that producing valuable content is only half the battle; the other half involves making sure your content is optimized for search engines, allowing it to reach a wider audience. This is where NeuronWriter excels as an indispensable tool for SEO.
When you utilize NeuronWriter, you have one of the best SEO content optimization tool at your fingertips. By analyzing your content, NeuronWriter gives you actionable insights to help you improve your content for better search engine visibility.
It functions as an AI-powered SEO NLP editor, suggesting changes and improvements to align your content with the best SEO practices. It goes beyond simply suggesting keywords – NeuronWriter is designed to enhance the overall readability, coherence, and relevance of your content, all of which are crucial for successful SEO optimization.
NeuronWriter is more than just a content editor – it's a content transformer. It empowers you to craft content for search that not only resonates with your audience but also meets the requirements of search engine algorithms. This way, when you tap into NeuronWriter to create and optimize your content, you're essentially equipping your writing with the tools it needs to rank higher in search engine results.
One of the most impressive features of NeuronWriter is its AI-powered ability to understand and mimic search engine algorithms. It operates similarly to how search engines evaluate content for relevance and quality. By harnessing NeuronWriter, you're giving yourself the upper hand in producing the best SEO content.
With NeuronWriter, you can strategically incorporate relevant keywords, organize your content, and structure your articles – all the elements that contribute to a powerful SEO strategy.
In essence, NeuronWriter is an AI-based content optimization tool that leverages advanced technology to assist you in creating content that not only reads well but also performs well in search engines. So, if you're looking to enhance your online visibility and create content that ranks, look no further than NeuronWriter. With NeuronWriter by your side, you're equipped with a comprehensive SEO content optimization solution that puts your content on the path to success.
NeuronWriter Features
Now that you have an idea of what is Neuronwriter and how it works, let's dive in deeper so you have a better insight into all of its features.
Project
Project is a feature from NeuronWrite to organize your content. The project was based on the domain name, we can think of it as a laboratory where you can do everything that you need to do and use Neuronwriter to rank your website better on search results like optimizing your content, re-optimized or re-structured old posts, analyzing top competitors, and many more.
For example, I have three websites I need to create one project for each of my website to focus on the thing that my website need to rank better. Projects vary on the plan that you choose The cheapest one can let you create 2 projects and the most expensive one will let you make 50 projects which is ideal if you have a lot of websites or if you are a writer who has a lot of clients. 
Query 
NeuronWriter offers a feature where you can create a query by placing your target keyword, and then Neuronwriter will automatically analyze the keyword and all the top-ranking articles on that query. After that, it will present you the top 10 results of the query, which will serve as the basis for creating guidelines for your article.
You'll also have the choice to remove some article and replace them based on your preference, after that its algorithm start to process and create a guideline for you and you can start writing.
Content Editor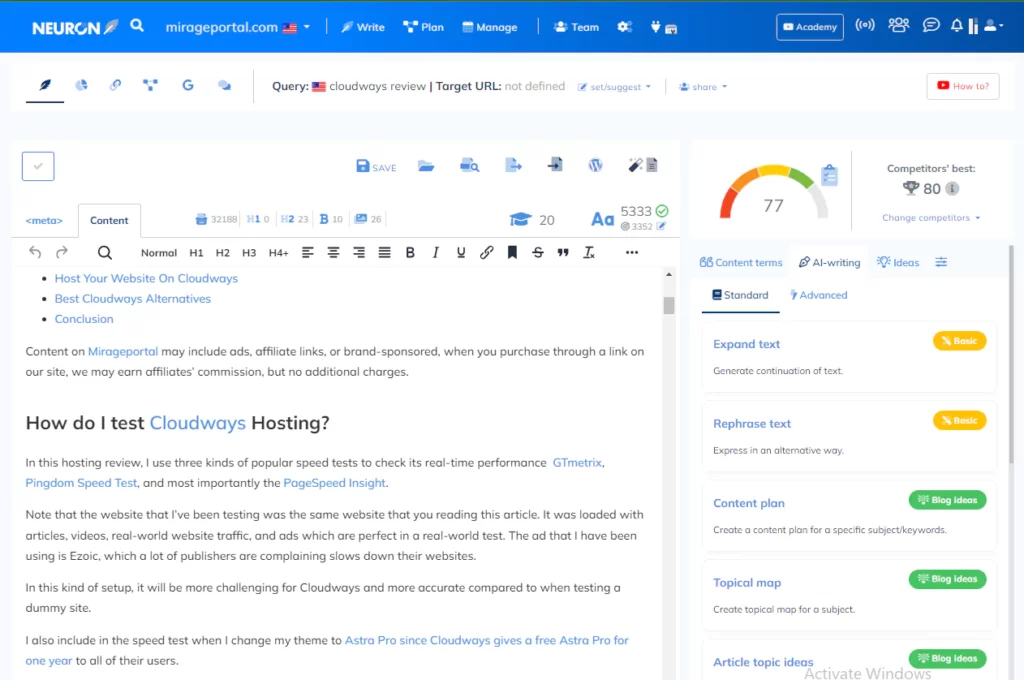 The content editor is the feature of NeuronWriter where you can construct your article by following all the recommendations from the guidelines that it creates. NeuronWriter editor works like Surfer SEO, you can see all the important terms that you should include in your article.
It will show you how many times you should include the terms in order to write high-quality content.  All the suggested keyword terms are color-coded green means good, light green means considered using more, yellow is above the range, red means you should consider less, and silver means not used.
Try to optimize content even more by making it all green if possible, you can see the overall score at the upper right part of the content editor dashboard. 
NeuronWriter is a powerful tool that gives you the ability to fine-tune your article to have a better chance to rank on Google.
Article Draft/ Article Layout
Neuron Writer can also let you create your own article layout, They have what they call an article draft which you can create your own layout, and you can see all the suggested subheadings that are used by your competitors. You can add it to the article draft and you can see all the suggested terms that you should use when writing to support each subheading.
Keep in mind that the sub-headings used by the competitors presented to you by NeuronWriter are just suggestions to give you an idea, it is not meant that you should use the exact word on your article to avoid any copyright infringement.
Competitors Top Analysis 
If you want to analyze your competitor's article even more, Neuronwriter also provides top analysis features in which you can see your competitor's parameter that contains competitor URL, content score, page authority, domain authority, page Moz rank, and internal links.
There is also a competitor's structure where you can see your competitor's article structure like the heading that they use from H1-H3 and even schema and a lot more.
SEO Optimization and AI Writing
Neuronwriter is a powerful SEO tool from its content editor to competitors' analysis, but aside from SEO recommendation and analysis it also has an AI content writer.  
Expand Text
One useful feature that its AI has is an expand text feature which uses the AI capability of Neuronwrite to expand your text, We all know that Google hates thin content even though Google representatives already stated that they didn't require a minimum number of words, expanding an article may still cover the topic even more which can make an article a helpful content that Google really want.
Rephrase Text
In addition to its array of features, NeuronWriter allows you to harness the power of AI technology to your advantage. One noteworthy capability is the ability to seamlessly rephrase segments of your content. This feature proves invaluable when seeking to introduce variety and freshness to your writing, ensuring that your ideas resonate with clarity and originality. By effortlessly rephrasing sections of your text, NeuronWriter becomes an indispensable tool for enhancing the overall quality and uniqueness of your content generation process by using its AI writer.
One Click Long Form Article
Aside from rephrasing and expanding the article NeuronWriter also has its own "one-click long from the article" like the one from SurferAI. Honestly, I'm not impressed about this feature, It can generate at least 1500+ words of an article that has an SEO score of 60, but for me, it is just a decent article. I think the Longform AI by Surgegraph is better than Neuronwriter's one-click long form since Surgegraph generates 3500-7500+ words that cover every topic.
Another thing that I don't like about Neuronwriter one click-long form article was most of the time it didn't pass AI content detectors. Sometimes it passes but most of the time it fails, let's just hope that they make it better in the future.
NeuronWriter AI content Detector Test
To back my claim that Neuronwriter one click long-form article is not impressive for passing the AI content detector, below is the screenshot of the AI detector test that I did using writer.com and copyleaks.com:
Plagiarism Checker
Neuronwriter can also check for any plagiarism in your content. It is quite handy to have this feature on Neuronwriter since some users use AI to generate the whole article and plagiarism tools can ensure that the article is free from plagiarism to avoid any future issues.
Though these features are only limited based on the plan you've chosen, the bronze and platinum plans do not include a plagiarism checker– only the gold, platinum, and diamond plans have this feature. 
Internal Link Suggestion
Another cool feature was this Internal link suggestion, If you are not aware on-page and off-page SEO are both important to your website. Lots of publishers only focus on off-pages when it comes to links by doing their link-building strategy and forget about internal linking.
Internal linking is very important since it tells Google what is your site and content all about, internal linking also help a lot in building a topical authority by creating an SEO silo.  Neuronwriter is an excellent tool by providing a link suggestion for your article that can enhance your topical authority and rank better on Google.
Next Content Ideas
Speaking of topical authority this next feature of Neuronwriter can enhance your site's topical authority even more. After creating an article using Neuronwriter, you can go to your next content idea button and click generate. After that it will show you some relevant ideas that you can write next, publishing some relevant topics under your main topic will enhance the topical authority of your website.
Google Search Console Integration
For me, this feature is not very important but still worth mentioning in this review. It just gives you the option to integrate your Google search console directly into your Neuronwriter Dashboard which can allow you to see some data like your GSC overview, top keywords, and top URL, and discover some keyword cannibalization on your website.
WordPress Integration
The last feature that I will mention is WordPress Integration, this feature will let you import and export your article directly to Neuronwriter. After you finish writing and optimizing your content, you can automatically send the article to your WordPress dashboard.
How to Use NeuronWriter for Content Optimization
Neuronwriter is easy to use, all you need to do is choose a plan, It either purchase directly from Neuronwriter or get a lifetime deal from Appsumo, after that you can log in on your account >> create a project >> make a query then start writing and optimizing your content to rank on Google.
If you want a more detailed tutorial on Neuronwriter, I will be publishing it soon.
NeuronWriter Review: Pros and Cons
Pros of Using NeuronWriter
Optimized your content 
Competitor analysis 
Granular SEO optimization
Ai-powered SEO writing tools
Affordable but a great tool for SEO
Cons of Using NeuronWriter
One-click long-form AI is a decent AI writer
No keyword research tool
AI credits are not the cheapest choice
Limited content writer analysis 
NeuronWriter Alternatives: Other AI Writing Tools
Exploring Alternatives to NeuronWriter
Although NeuronWriter is a powerful AI writing tool, it may not be the right fit for everyone. Several alternatives offer similar features and functionalities. These tools include Surfer SEO, which focuses on SEO optimization, and other AI-powered content writing and editing platforms like Content Creator and Content Writer AI.
Comparing NeuronWriter with Similar Tools
When considering AI writing tools, it's essential to compare their features, pricing, and overall capabilities. For instance, Surfer SEO provides robust on-page SEO optimization features, while Content Creator focuses more on content creation and generation. NeuronWriter stands out with its comprehensive content analysis and editing features.
Deciding Between NeuronWriter and its Competitors
Choosing the right AI writing tool depends on your specific needs and preferences. Consider factors such as the content creation process, AI editing capabilities, SEO optimization features, pricing, and customer support. Take advantage of free trials or demos to determine which tool offers the best fit for your content creation and optimization requirements.
Surgegraph
The best alternative to Neuronwriter that I recommend is Surgegraph, it is much easier to use and much cheaper. Surgegraph is the best for those who like to take advantage of AI writing. In Surgegraph you can create an outline and write the whole content in just a few clicks, It does this by analyzing the top ranking article like Neuronwriter the only difference is that everything can be done in just 3 clicks.
The first click analyzes the top-ranking articles, the second click generates an outline, and the third click generates 3500-7500+ words of SEO-optimized articles. Surgegraph also comes with auto-optimization where it optimizes even more the article by inserting more relevant key phrases, and links and decorating the article for user engagement.
Related Content: Surgegraph Review
SurferSEO 
SurferSEO serves as the standard when it comes to content optimization, plagiarism checking, keyword research tools, and even AI writing. The only downside of SurferSEO is that it is indeed expensive, especially for those who are just starting in the industry and have a very limited budget.
Even their AI writer "SurferAI" is not included in their plans and costs even more when you want to use it to generate an article for you. If you have a high budget you can try SurferSEO but for a limited budget I highly recommend Surgegraph if you want a more capable but affordable AI writer, and NeuronWriter if you're looking for an affordable but feature-rich content optimizer.
NeuronWriter Pricing
Now let's proceed with the price– for this day of writing there are two kinds of pricing for Neuronwriter, the first is on their main website and the second is in the Appsumo.
Neuronwriter Original Pricing Plans
Bronze plan €19/month: 2 projects, 25 content writer analyses, 15,000 A.I credits, content plan, content sharing (read-only)
Silver plan€37/month: 5 projects, 50 content writer analyses, 30,000 A.I credit, content plan+ new ideas, content sharing (read-only)
Gold plan €57/month: 10 project folders, 75 content writer analyses
45.000 A.I. credits, advanced AI templates, content plan+ new ideas, content sharing with unlimited team members (create, edit, read), 75 plagiarism checks, integration: GSC, WP, Shopify, content management
Platinum plan €77/month: 25 projects, 100 content writer analyses, 60,000 AI credits, advanced AI templates, content + new ideas, content sharing with unlimited team members (create, edit, read), 100 plagiarism checks, integration: GSC, WP, Shopify, content management
Diamond Plan €97/month: 50 projects, 150 content writer analyses, 75,000 AI credits, advanced AI templates, content plan + new ideas, content sharing with unlimited team members (create, edit, read), 150 plagiarism checks. integration: GSC, WP, Shopify, content management.
Neuronwriter Appsumo Lifetime Deal
If you're looking for a Neuronwriter lifetime plan, there is currently an Appsumo lifetime deal for a limited time. We don't have any information on how long Neuronwriter can be bought in Appsumo so it is wiser to act quickly if you want to have a lifetime deal with Neuronwriter.
The plan in Appsumo is the same as the Bronze plan and the Diamond plan, the only difference is that in Appsumo it works per code, if you purchase you can get the Bronze plan, 2 codes for the Silver plan, and 3 codes for the Gold plan. If you want the platinum and Diamond plan, buy more codes up to seven to unlock all the features for the Diamond plan.
Codes in Appsumo are stackable means, that if you want more features you can stack more codes until you reach the 7 codes which are equivalent to a diamond plan. 
What Are Credits in NeuronWriter and How They Work
Alright, let's dive into the world of "credits" in NeuronWriter. It might sound a bit techy, but fear not—I'll break it down for you in plain English.
Imagine credits as the magical tokens that power up the AI side of NeuronWriter. They're like the coins you use in an arcade to play those awesome games, but here, it's all about boosting your writing game.
So, what's the deal with these credits? Well, here's the scoop: When you're using NeuronWriter, you'll see some pretty cool AI-driven features. Stuff like the AI-powered one-click long-form content generator, which is like having a virtual co-writer who's also pretty good at chatting. There's also the AI rephrase and expand text tools, which can give your writing some extra oomph.
Now, here's the catch—these AI features are where the credits come into play. They're like the fuel that powers up these tools. So, whenever you use the AI content generator, rephrase text, or expand text features, you'll be dipping into your credit stash.
But wait, there's more! Not every action in NeuronWriter requires credits. Cool stuff like competitor analysis, SERP analysis, NLP analysis, and content editing are in the no-credit zone. So you can go wild with those without worrying about your credit balance.
And how do these credits work exactly? Well, NeuronWriter has different plans, and each plan comes with a set of credits. Think of it like getting a certain number of game tokens when you enter the arcade. When you're using those AI features, the appropriate amount of credits gets deducted from your balance.
It's like having a toolbox of writing magic, and every time you use one of those AI-powered tools, it's like opening that toolbox and using up a few credits.
So, in a nutshell, credits in NeuronWriter are all about giving you access to those AI-powered writing tricks. They keep things fair and balanced, so you're getting the most out of the cool AI features that NeuronWriter has to offer.
NeuronWriter Customer Support: Assistance for Users
Accessing NeuronWriter's Customer Support Channels
NeuronWriter provides various customer support options to assist users. You can access help and guidance through their website's support section, which includes FAQs, tutorials, and documentation. Additionally, the NeuronWriter team is available via email or chat support, ensuring that you receive prompt assistance when needed.
How NeuronWriter Responds to User Queries and Issues
NeuronWriter's customer support team is responsive and dedicated to resolving user queries and issues promptly. They strive to provide solutions and guidance to help users make the most of the tool's features and functionalities. If you encounter any difficulties or have questions while using NeuronWriter, you can rely on their support team to assist you.
NeuronWriter Review: Pros and Cons
Before we dive into the conclusion let us have a recap about the pros and cons of Neuronwriter.
Pros of Using NeuronWriter
Optimized your content 
Competitor analysis 
Granular SEO optimization
Ai-powered SEO writing tools
Affordable but a great tool for SEO
NeuronWriter is a content optimization powerhouse that offers a range of advantages to elevate your content creation and SEO endeavors. One of its standout features is its ability to optimize your content effectively, ensuring that your articles are not only well-written but also primed for search engine visibility. This optimization extends to a granular level, as NeuronWriter enables you to analyze and fine-tune your content with precision.
Moreover, NeuronWriter's incorporation of competitor analysis adds a strategic edge to your writing approach. This feature empowers you to delve into the strategies of top-ranking articles, gaining insights that can inform your content creation process and help you stand out in the digital landscape.
The AI-powered SEO writing tools offered by NeuronWriter are a significant asset, allowing you to seamlessly incorporate SEO best practices into your content. This synergy between AI and SEO not only streamlines the writing process but also positions your articles for better search engine rankings.
One of the most appealing aspects of NeuronWriter is its affordability combined with its efficacy. Despite its powerful features, NeuronWriter remains an accessible option for content creators and writers seeking to enhance their SEO efforts. This affordability makes it a compelling tool, especially given its potential impact on content visibility and engagement.
Cons of Using NeuronWriter
One-click long-form AI is a decent AI writer
No keyword research tool
AI credits are not the cheapest choice
Limited content writer analysis 
While NeuronWriter boasts several strengths, there are also a few areas that warrant consideration. The one-click long-form AI content generation feature, while functional, might be perceived as a decent AI writer rather than an exceptional one. This aspect could benefit from further development to ensure the generated content meets higher standards.
Additionally, the absence of a dedicated keyword research tool is a notable limitation. Keyword research is a cornerstone of effective content creation, and the inclusion of such a tool could enhance NeuronWriter's value as an all-in-one content optimization solution.
The pricing structure involving AI credits might be a consideration for those seeking the most cost-effective solution. While NeuronWriter's features are valuable, the associated costs of AI credits could be explored to strike a balance between accessibility and affordability.
NeuronWriter offers a suite of features that hold great promise for content creators and SEO enthusiasts. Its ability to optimize content, coupled with competitor analysis, granular SEO optimization, and AI-powered writing tools, sets it apart as a versatile tool in the content optimization toolkit.
However, the journey to excellence involves addressing certain areas, such as refining the one-click long-form AI content generation, considering the addition of a keyword research tool, and evaluating the cost-effectiveness of AI credits.
Ultimately, NeuronWriter's potential is evident in its capacity to enhance content for SEO, offering accessible solutions for writers and marketers alike. As the digital landscape continues to evolve, NeuronWriter stands as a valuable asset, ready to assist in the pursuit of optimized content and improved search engine rankings. 
Conclusion
Is Neuronwriter worth it? Yes, based on my own experience Neuronwriter is probably the best alternative to Surfer SEO for content SEO optimization. It provides granular control for a content editor, analyzes top competitors, and provides lots of data that you can use to outrank your competitors.
Neuronwriter is a great tool that even provides a top analysis feature that is amazing, You can't get those kinds of features even in Surgegraph, the suggestion of the term is accurate and effective which can surely help your article to rank better in search results.
The only one that lacks this tool is keyword research, The A.I writer was okay but not impressive but the analysis and content optimizer are top-notch.  If you want affordable SEO optimization and AI writer tool Neuronwriter is the right choice.
FAQs
Can I use NeuronWriter for any type of content?
Absolutely! Whether you're a seasoned blogger, an eCommerce enthusiast in need of product descriptions, or a social media aficionado seeking captivating captions, NeuronWriter has your back. It crafts customized content for diverse purposes, making it a versatile solution for all your content needs.
Is NeuronWriter suitable for beginners?
Definitely! NeuronWriter's user-friendly interface and array of helpful features cater to users of all skill levels. Whether you're a writing novice or a seasoned pro, NeuronWriter offers an intuitive experience that welcomes everyone to the world of optimized content creation.
Does NeuronWriter support multiple languages?
Yes, it does! NeuronWriter's prowess extends beyond language barriers. With support for a broad spectrum of languages, you can effortlessly create optimized content in various tongues, enhancing your reach across different audiences.
Can I integrate my own keywords into the generated content?
Absolutely! NeuronWriter comes equipped with a nifty target keyword analysis feature. This means you can seamlessly weave your chosen keywords into the generated text, aligning your content with your specific goals and strategies.
How accurate are the SEO suggestions provided by NeuronWriter?
NeuronWriter's SEO insights are nothing short of precision. Drawing on comprehensive data analysis, it furnishes you with highly accurate SEO suggestions. However, as with any smart tool, it's a wise move to give them a once-over and fine-tune them to your individual requirements.
Are the SEO suggestions from NeuronWriter always accurate?
NeuronWriter's SEO suggestions are not just good, they're remarkably accurate. Built on meticulous data analysis, they offer a solid foundation for your content's success. Nonetheless, a touch of customization based on your specific needs is always a great way to ensure your content truly shines.
Do you have more questions or itching to dive in? Check out NeuronWriter the AI-powered content optimization and SEO tool that's definitely worth exploring for seasoned SEO content writers and those looking for efficient SEO optimization and AI writing companion. It's an excellent choice for anyone seeking to elevate their content SEO optimization game.