Hooray !!!, There are four new Cookie Run Kingdom Codes available that Devsister released in March 2023. Well, this is not as huge as the previous one, but still free. So let us claim these new Cookie Run Codes while it still available
Cookie Run Kingdom Code/CRK Codes (New)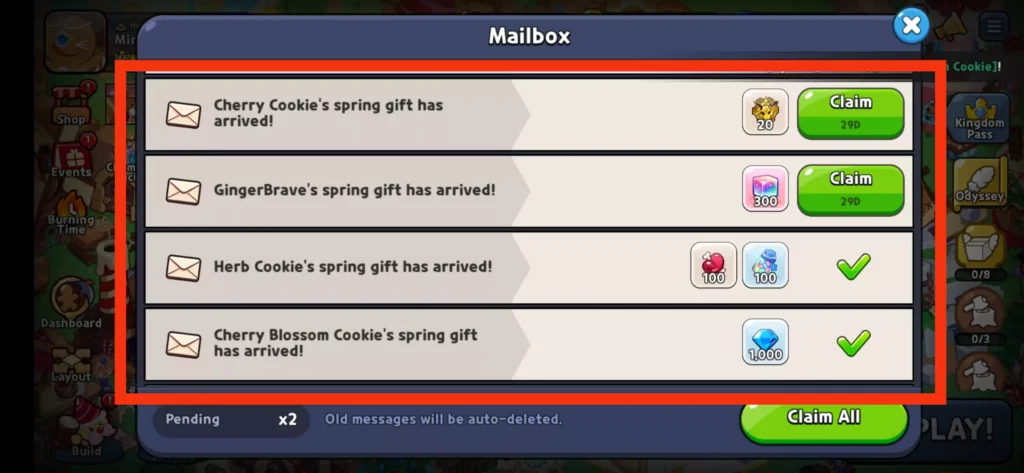 Sorry, there is no available code today. Make sure to frequently visit this site and bookmark it to stay updated when new codes came out.
Expired Cookie Run Kingdom Codes
These are the previous Cookie Run Kingdom Coupons/Codes, if you see some of these it is not working anymore. Considered bookmarking this page for you to be always updated when new codes are available.
CHERRYSPRINGGIFT
BRAVESPRINGGIFT
HERBSPRINGGIFT
BLOSSOMINGGIFT
2NDBIRTHDAYPARTY
CRKALWAYSLOVEYOU
CRK2NDBIRTHDAYD1
CRK2NDBIRTHDAYD2
CRK2NDBIRTHDAYD3
CRK2NDBIRTHDAYD4
CRK2NDBIRTHDAYD5
CRK2NDBIRTHDAYD6
CRK2NDBIRTHDAYD7
Looking for a Cookie Run Kingdom Code? If yes, you are in the right place, I have been playing Cookie Run Kingdom for about a year and I also write some different Cookie Run Kingdom Toppings Guides that you can check on this website.
In this article, I list all the working Cookie Run Kingdom Codes that you can use to claim lots of rewards. Some rewards that you can get from the codes are Crystals which are good if you need more of those to do some gacha.
You can also receive some magic cookie cutters, Rainbow Cubes, Radiant Shards, Time Jumper, EXP Star Jelly, Topping's pieces, Treasure tickets, Coins, and more.
I will update this article regularly to make sure that all the codes are working and updated.
How To Redeem Cookie Run Kingdom Code Complete Tutorial
If you are new to the game you might be confused about how to redeem Cookie Run Kingdom Codes. But don't worry since I will guide you through the whole process, and I promise that it was super easy.
Step 1
The very first step is to log in to the game Cookie Run: Kingdom. After you login into your own account find the three lines in the upper right side of your screen and tap them.
Step 2
After you tap the three-line icon, go to settings and tap info. After that, you will see your dev play account. Make sure that you have an account that is connected to the Cookie Run Kingdom. Since this will not work if you're playing as a Guest.
Step 3
After you find your Devplay account just tick the copy button or you can just remember it since you'll gonna need it to redeem the code. Take note that you will need the Devplay account, not the Player ID. It happens to me at first as I keep using my Player ID to redeem and I thought that the codes are not working.
The Devplay account is usually the Gmail address if you use Google to link to the game, the Google Play account, the Apple account, or your Facebook account.
Step 4
After you find and copy your Devplay account, go back to the three lines icon and hit coupon. It will redirect you to the Cookie Run: Kingdom website to enter the Devplay account and the Cookie Run: Kingdom Codes. You can also browse directly on your browser to go to the site at https://game.devplay.com/coupon/ck/en or click the button down below this line for quick access.
Step 5
When you are on the Cookie Run Kingdom Codes Redeem page. Just enter your Devplay account, and the Cookie Run Kingdom Code and click the Claim Reward button on the page. You can redeem the codes one by one and refresh the game for the rewards to appear in your game Mailbox and that's it enjoy the rewards.
More From Mirageportal
Frequently Ask Questions For Cookie Run Kingdom Code
How many times can you use the Cookie Run Kingdom Codes?
Every CRK code can only be used once per account, you can redeem all the working codes in the game but you cannot use it more than once.
Where do I enter cookie kingdom codes?
Just go to their official website, then click the coupon code to redirect to the redeem page of the site and enter your Devplay account and CRK code.