Best Espresso Cookie Toppings Build
Best Espresso Cookie Toppings: 5X Searing Raspberry Toppings
Alternative Toppings: 5X Solid Almond Toppings
The best toppings for Espresso Cookie is 5X searing raspberry, it was due to its massive damage, by using searing raspberry his damage can greatly amplify. For an alternative the best one to use is 5X solid almond since Espresso is a great damage dealer but he is very squishy his defense is very weak and solid almond toppings can increase his survivability.
Best Espresso Cookie Toppings: 5X Searing Raspberry Toppings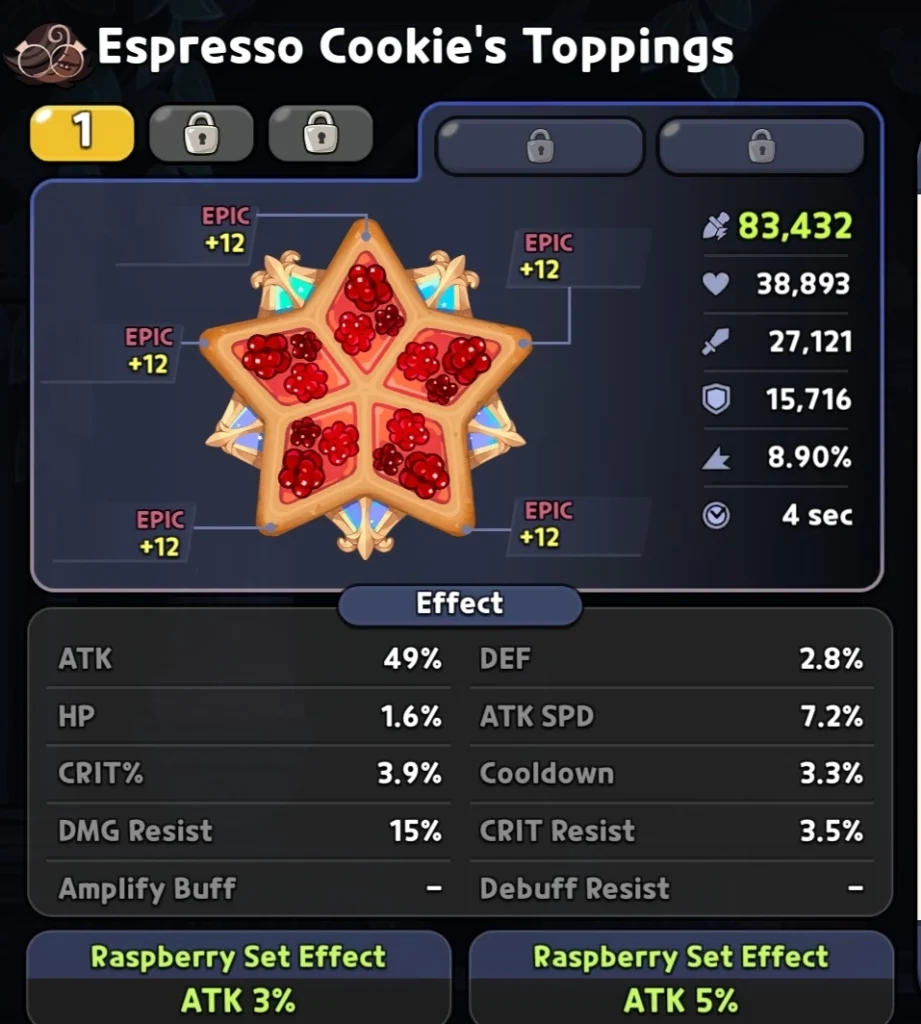 As Espresso Is one of the good damage dealers in the game, the best Espresso Cookie toppings that I highly recommend is a complete set of searing raspberry. These toppings build will surely maximize the damage to your Espresso Cookie.
Make sure to choose +12 raspberry toppings with an additional attribute of ATK with damage resistance, but if you don't have +12 raspberry toppings any additional attributes will do.
Alternative Toppings: 5X Solid Almond Toppings
Another Espresso cookie topping that I'm using was a complete set of Hard Walnut toppings. I know this topping build usually use for defense-type cookies. The reason why I recommended Hard Walnut topping was because Espresso Cookie is so squishy.
There are certain times in the arena when Espresso Cookie might die without giving a chance to cast his skill. Especially if your opponent's cookie has crowd control ability and burst skill damage. Using a complete set of these Hard walnut toppings can increase the survivability of your Espresso Cookie.
A complete set of Searing Raspberry toppings was still the best toppings for Espresso but Hard Walnut toppings are a great alternative based on the situation.
Support Mirageportal By Buying A Drink
Related Content:
Espresso Cookie Skill
Skill Name: Grinding
Skill Description: Upon using the skill, Espresso Cookie cast a giant whirlwind that inflicts periodic damage to all enemies in the area. The giant whirlwind will pull all the enemies toward the center like a black hole, even if they are resistant to interruption.

The whirlwind will explode in the final second of its skill and cause additional damage to the opponents. Espresso Cookie will also become resistant to interruption while using his skill.
Skill Effects:
— DMG: 98.4% over 7 hits (+1.1-1.2% DMG per level)
— Final hit DMG: 123.0% (+1.4-1.5% DMG per level)
Espresso Cookie Skill And Effects
Magic Candy Skill: Perfect Extraction
Magic Candy Skill Description: When Espresso Cookie reaches level 50 he will unlock the usage of magic candy and enhance its skill abilities and damage. The magic candy adds a single hit of damage from its final hit that is related to enemies max HP (DMG capped at 300,000).

The magic candy of Espresso cookie also adds a debuff effect to the enemies called "Injury" It will decrease the max HP of the opponent by a percentage from the start of the battle.
Espresso Cookie Magic Candy Effect: Extra DMG on final hit: Single hit DMG (Cookies): 261.8% (+1.88-2% per level) +3.6% fixed DMG relative to Max HP, Single hit DMG (Others): 198.4% (+3.4-3.5% per level) | Injury: Max HP -8.0% (+0.06-0.07% per level) (from the start of the battle) for 20.0 sec, Injury limit up to 25%
Magic Candy Skill And effects
Espresso Cookie Story
Cookie Run: Kingdom
How To Get Espresso Cookie
The Espresso Cookie rarity is Epic, it's hard to obtain but easier compared to legendary and ancient cookies. If you want Espresso Cookie, there are certain ways to get this cookie that I list down below.
Gacha- 10X draw 3000 crystals, 1X draw 300 crystals
Mileage shop
Seaside market
Rainbow Shell Gallery
Dark mode world exploration stages 8-15, 12-18
World exploration master mode stages 1-3
More From Mirageportal
Frequently Ask Questions For Espresso Cookie
What type of cookie is Espresso Cookie?
Espresso cookie is a magic type cookie a kind of cookie that is usually positioned in the middle. Magic-type cookies are usually a great damage dealer in the game.
What is the best toppings for Espresso Cookie?
The best and most recommended toppings for Espresso is a complete set of searing raspberry. It is the only topping that can maximize the damage to Espresso cookies.