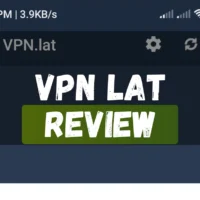 VPN lat Review: Is It A Good Free VPN?
Summary
I'm using VPN.lat for 5 months and the result is positive, for a 100% free VPN they offer a lot of features like unlimited bandwidth, a lot of servers for free, and a user-friendly interface. They keep up with their promise to prove a free VPN for mobile, but the downside was the ads, it's okay but sometimes its ADS becomes too much. Their server is also slower compared to some premium VPNs but still good for a free VPN. For a 100% free VPN, I highly recommend VPN.lat for light tasks only.
Pros
Free
Global Server Location
Affordable Premium Plan
Cons
Slow Server Speed In Free Plan
Powered by Ads
Welcome to our VPN lat review, where we explore the remarkable capabilities of one of the best free VPN options available for Android users. In an era where online privacy and security have become paramount, VPN services play a crucial role in safeguarding our digital activities.
VPN.lat stands out as an exceptional choice, offering a host of features and functionalities explicitly tailored for Android devices. In this article, we will delve deep into the world of VPN.lat, examining its performance, user-friendly interface, security measures, and if it is a perfect choice.
If you're an Android user seeking a trustworthy VPN solution that won't break the bank, this VPN.lat review guides you. Let's embark on this journey to unlock the full potential of VPN.lat and enhance your online experience.
VPN lat Review: How I Test The VPN
I installed VPN.lat on my mobile device and have used it for five months. It gives me plenty of time to analyze if this Free Android VPN stands on its promise and if you can trust it for your data.
I also perform some speed tests using Ookla to compare its performance when using it as a VPN. I will also test Its IP masking capability to make sure that It does its part in hiding your real IP.
I will also check its DNS for any leaks to make sure that your data is protected when using this VPN. It is important to check for any DNS leak for you to ensure that your data is properly encrypted and routed to the VPN servers.
Warning On Using A Free VPN
Before we start the VPN.lat review I want to let you know that using a free VPN is only for minor security. Dont rely on it if you need a VPN for heavy security and privacy.
I have a lot of experience with VPNs and using them for decades long before I even create a website. I also use countless free VPNs out there and as a piece of advice only trust those most popular and trusted VPNs if you need serious privacy and anonymity.
Free VPNs like VPN.lat should only be used in light of online activity.
VPN.lat Speed And Performance
Let's start our VPN.lat review with its speed and performance. Well, take a look at my internet speed without VPN.lat activated and with VPN.lat and let us compare the result.
Speed With And Without VPN.lat
When using the Ookla speed test, you can see in the screenshot that my original internet speed without using VPN.lat was 64.9 Mbps download and 24.5 Mbps upload, but when I turned on the VPN my internet speed slowdown to 18.3 Mbps for the download and 9.21 Mbps.
Well, slowing down the internet when using a VPN is normal since your data will be rerouted to the encrypted tunnel to connect to the secure VPN server. This process will ensure that all your internet data are secure from prying eyes, but this kind of method is known to slow down the internet speed.
This is why having a reliable VPN provider is always better than a free one since they have a lot of budgets to give you the best and fastest VPN server to minimize slowing down your internet. But for a 100% free VPN for mobile, I personally think that the speed of VPN.lat is okay, it's forgivable actually considering the fact that it's free.
IP Leak Test
After measuring the speed test of the VPN.lat I do check for its IP leak to make sure that our VPN is not exposing our real location and IP.
You can see in the screenshot above the result of the IP leak test that I perform. You can see that my location is in Colombia which is nothing to do with my real location. Im not really from Columbia which is safe for masking my real location.
DNS Leak Test
A DNS leak test is also a very important part of reviewing a VPN. We should always check if its DNS is leaking to make sure that our VPN doesn't fail to route DNS requests to an encrypted tunnel that has the potential to expose the website you visit and IP address to other entities.
In my case I test VPN.lat for any DNS leak and it's good. It shows different IPs but not showing my real IP address and location. You can see from the screenshot above that it shows a couple of IPs from Sao Paulo Brazil which is very far from my real location which is good.
Servers
This feature of VPN.lat is what I like the most, it is unmatched by any free VPN for mobile. Some other free VPNs only offer a single server that is automatically connected.
In other words, you have no control over choosing a server in some other free VPN. But in VPN.lat they are giving different servers in 72 countries globally. Almost every country has different servers you can choose which one is faster in your location.
Downside Of VPN.lat
Now let's discuss the downside of using VPN.lat, for you to know where it's lacking and be cautious when using their VPN.
Too many Ads (Sometimes)
One thing that bothered me about VPN.lat is their ads appear too much (sometimes). At times, it can be quite irritating when there are so many ads than it should be. However, taking into account the overall usage, I found it to be okay.
If you're someone who gets easily irritated by ads, VPN.lat might not be your ideal choice. But if we consider the fact that VPN.lat was free and gave a lot of servers to choose from its users, for me the presence of ads can be seen as a fair trade-off.
Slower Servers
When I conducted speed tests for VPN.lat and reviewed the screenshots, it became evident that my internet speed significantly slowed down. This could potentially be attributed to the servers used by VPN.lat. Premium VPN services, which come at a higher cost, often have the advantage of utilizing ultra-high-speed servers due to their ample budget.
In the case of VPN.lat, being a free service, it's understandable that they may have limited resources to invest in such ultra-high-speed servers. However, all things considered, I didn't find the speed performance to be too detrimental.
Lack Of Company HQ Info
When it comes to using a VPN, knowing the location of the company is crucial as it directly influences its privacy policy. I have previously explained in a separate article why it's essential to choose a VPN provider situated in a privacy-friendly country.
Unfortunately, the issue with VPN.lat is that they do not clearly state the country of origin for their company. Moreover, there is a lack of information available on the internet regarding their headquarters. Personally, I see this as a drawback since users won't have any idea whether their VPN provider operates from a privacy-friendly jurisdiction.
VPN Lat Alternative
When it comes to alternatives, the best VPN that I can recommend is Atlas VPN, It is also free but has some limitations like 2GB /day of data, and will not give you a manual option on choosing a server on their free version.
But if you want more and decide to purchase a premium VPN, I recommend getting Atlas premium rather than VPN lat premium. For this reason in terms of speed, Atlas is way faster than VPN Lat. They are more secure, backed by Nord security, and also offer unlimited devices which is a good deal.
If you are interested in Atlas you can check out their official website.
Conclusion
In conclusion, this VPN.lat review highlights the capabilities of one of the best free VPN options available for Android users. With its user-friendly interface, decent security measures, and a wide range of features tailored for Android devices, VPN.lat stands out as a reliable choice.
While it is important to note the presence of occasional ads and potential slower speeds compared to premium VPN services, VPN.lat offers a fair trade-off considering its free nature. However, the lack of clear information about the company's headquarters and origin is a drawback, as it impacts transparency and privacy policy.
For Android users seeking a trustworthy and cost-effective VPN solution, VPN.lat presents a viable option. I recommend using this VPN for light purposes only like streaming, light gaming, changing location, and avoiding some ads.
But when it comes to more serious matters of security, hiding identity, and enhancing anonymity I advise that you choose a more premium option from a more trustworthy brand like SurfShark, ExpressVPN, and NordVPN.
Those companies can give you the maximum security that you can get from a VPN provider. Always remember that free VPN should only be used for light tasks only.
Frequently Ask Questions About VPN.lat
How safe is VPN lat?
Based on my own experience and testing, VPN.lat is safe to use. But VPNs lat still free VPNs that are powered by ads which still has a security issue since ads are known to gather information from the users to serve ads that a person might interested in. If this matter doesn't concern you, well VPN.lat was still safe, but for light use only.
Is VPN.lat Free?
Yes, they are indeed the best free VPN out there that you can use on mobile devices. They offer a lot of servers that are 100% free to use. If you are not concerned about the ads on their apps, VPN lat is a good choice for a free VPN.
More From Mirageportal