Table of Contents: Music Apps Free Download
The best music player apps for Android
Hey there, fellow music enthusiasts! As an Android user who lives and breathes music, I know firsthand how crucial it is to have the perfect music player app. There's something magical about diving into a world of melodies, rhythms, and lyrics, and having the right app can enhance that experience in ways you never thought possible.
Picture this: You're on the hunt for a music player app that not only delivers exceptional sound quality but also offers a seamless and intuitive interface. With countless options at your fingertips, making a choice can feel like navigating a labyrinth of possibilities. But fear not! I've spent countless hours testing various apps, exploring their features, and feeling the beats pulsating through my Android device to bring you a handpicked selection of the absolute best music player apps out there.
In this article, I invite you to join me on a sonic adventure as we explore five extraordinary music player apps for Android. These apps have personally captured my heart and taken my music-listening experience to new heights. From immersive audio settings to stunning visual themes and everything in between, each app on our journey offers a unique blend of features that cater to different tastes and preferences.
So, whether you're a casual listener who enjoys toe-tapping melodies or a passionate audiophile searching for the ultimate sonic nirvana, fasten your seatbelts and get ready to embark on a captivating quest to find the music player app of your dreams. Together, we'll unlock the secrets of these apps, uncover hidden gems, and make your Android device a true powerhouse of musical delight. The rhythm awaits – let's dive in and unleash the extraordinary world of the best music player apps for Android!
List Of The Best Android Music Players
AIMP
jetAudio HD Music Player
Poweramp Music Player
Spotify: Music and Podcasts
PlayerPro Music Player
Oto Music
YouTube Music
VLC for Android
Phonograph Music Player
MediaMonkey
Pulsar Music Player
Comparing Top Music Players For Android
AIMP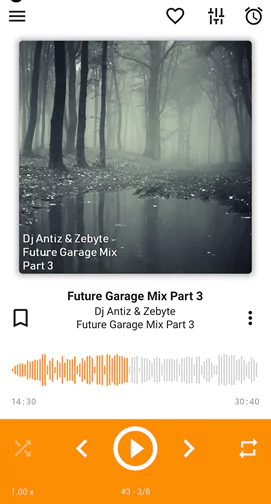 When it comes to exploring music apps free for download, one name that resonates with both quality and affordability is AIMP. Allow me to introduce you to this remarkable gem that has enriched my musical journey without costing a dime.
AIMP is more than just a music player; it's a gateway to an immersive auditory experience. With its sleek and user-friendly interface, AIMP effortlessly captures your attention from the moment you launch it. Seamlessly navigating through your music library, this app ensures that your favorite tunes are just a tap away.
What sets AIMP apart is its ability to cater to music enthusiasts on a budget. In an era where paid subscriptions dominate the market, AIMP offers a refreshing alternative by providing a vast collection of features, all for free. Yes, you read that right – this music app is packed with functionalities that won't put a dent in your wallet.
AIMP supports a wide range of audio formats, ensuring that you can enjoy your music in pristine quality. From MP3 to FLAC and everything in between, this app has you covered. It also boasts an impressive equalizer with customizable presets, allowing you to fine-tune your audio according to your preferences.
But wait, there's more! AIMP doesn't stop at being a simple music player. It also doubles as an audio converter, allowing you to convert your favorite tracks into different formats with ease. Moreover, it offers a nifty feature called "Internet Radio," which grants you access to an extensive collection of online radio stations from across the globe.
With AIMP, you can take your music experience to new heights by unleashing the power of crossfade and gapless playback. Seamlessly transitioning from one song to the next, AIMP ensures that there are no interruptions in your melodic journey, keeping you immersed in the rhythm.
JetAudio HD Music Player
I've stumbled upon a music player app that has completely transformed the way I experience music on my Android device. It's called JetAudio HD Music Player, and let me tell you, it's like having my own personal concert wherever I go.
Let me set the scene for you. Picture me, lost in the world of melodies, with jetAudio HD as my trusty companion. From the moment I laid eyes on its sleek and stylish interface, I knew I was about to embark on a sonic adventure like no other. And boy, did it deliver!
The first time I pressed play, the sheer quality of the sound took my breath away. It was as if the music came alive, wrapping around me like a warm embrace. Every note, every beat, and every lyric resonated with such depth and clarity that it felt like the artists were performing right in front of me.
But here's the thing: jetAudio HD is not just about exceptional sound. It's packed with features that make it a music lover's dream come true. The customizable equalizer allows me to fine-tune the audio to suit my mood and preferences. Whether I want to feel the bass reverberating through my body or get lost in the delicate harmonies of an acoustic guitar, jetAudio HD lets me create my own sonic paradise.
And let's talk about the seamless transition between songs. With crossfade and gapless playback, the music flows from one track to the next, creating a continuous wave of pure bliss. It's like each song effortlessly blends into the next, keeping me in a state of uninterrupted musical euphoria.
Organization is a breeze with jetAudio HD. Navigating through my music library, editing tags, and creating playlists has never been easier. It's like having a personal assistant that helps me curate the perfect soundtrack for every moment of my life.
The Best Free Offline Music Player Apps for Android
Poweramp Music Player
Poweramp Music Player is an app that has earned its place as a powerhouse in the realm of music players, delivering an exceptional audio experience that will leave you in awe.
From the moment I discovered the Poweramp music player, I knew I had stumbled upon something special. Its sleek and intuitive interface immediately caught my attention, but it was the sound quality that truly blew me away. With its powerful audio engine, Poweramp elevates the music listening experience to new heights, allowing you to fully immerse yourself in every beat, every note, and every lyric.
What sets Poweramp apart is its extensive customization options. The app provides an impressive array of features, including a robust equalizer, allowing you to fine-tune the audio according to your preferences. Whether you're a bass enthusiast or a lover of crystal-clear highs, Poweramp empowers you to shape the sound just the way you like it.
With its advanced library management tools, Poweramp makes organizing your music a breeze. Tag editing, seamless integration with album art, and a user-friendly interface make navigating through your music collection a joyous experience.
Poweramp also supports a wide range of audio formats, ensuring compatibility with your diverse music library. Whether it's MP3, FLAC, or any other format you throw at it, Poweramp is up to the task, delivering exceptional playback quality every time.
Spotify: Music and Podcasts
Spotify is one of my ultimate gateways to the world of music streaming and podcasts. It's like having a personal DJ and a library of captivating stories right at my fingertips.
Whenever I'm in the mood for some musical magic, Spotify never disappoints. With just a few taps, I can dive into a treasure trove of songs spanning across genres, eras, and emotions. It's like having access to an entire universe of melodies, ready to accompany me on any journey, from sunny road trips to late-night introspection sessions.
But Spotify goes beyond just music. It's also my go-to destination for thought-provoking podcasts. From true crime tales that keep me on the edge of my seat to heartfelt conversations that touch my soul, Spotify's podcast collection has become a part of my daily routine.
What I truly love about Spotify is how easy it is to navigate. It understands my taste like a close friend, suggesting new songs and podcasts that align perfectly with my interests. I can create and customize playlists, discover hidden gems, and share musical moments with friends and loved ones.
PlayerPro Music Player
Let me introduce you to a game-changing music player app that will take your Android experience to the next level. It's called PlayerPro Music Player, and it's here to shower you with the wonders of free music right at your fingertips.
PlayerPro is a sleek and intuitive app that not only seamlessly integrates with your beloved Android device but also grants you access to an expansive library of free music. PlayerPro is like having a personal concert in the palm of your hand, ready to whisk you away on a melodic adventure.
With PlayerPro, you can explore a diverse collection of songs across genres, all without spending a single penny. It's a treasure trove of musical gems, waiting to be discovered and enjoyed. Whether you're in the mood for uplifting pop melodies, soulful ballads, or foot-tapping rock anthems, PlayerPro has got your back.
But here's the best part: PlayerPro is designed specifically for Android users like you. It seamlessly integrates with your device, effortlessly syncing with your existing music library. It's like having a trusted companion that understands your musical cravings and caters to them with a delightful selection of free tracks.
And let's not forget about the customizable features. PlayerPro empowers you to fine-tune your audio experience with its intuitive equalizer. You can tweak the bass, adjust the treble, and customize other settings to create the perfect sound profile that resonates with your unique preferences.
In a world where paid music services dominate the scene, PlayerPro Music Player is a breath of fresh air. It's the ultimate companion for Android users who want to enjoy the magic of free music while basking in the convenience of a user-friendly app. So, why wait? Let PlayerPro transform your Android device into a gateway of limitless melodies, where the enchantment of free music awaits your eager ears.
Oto Music
Let me introduce you to one of the best music player apps that will redefine the way you enjoy your favorite tunes: Oto Music. Trust me, it's hands down one of the best music players out there, and once you dive into its world, you'll never look back.
When you open up Oto Music, you'll be greeted by a sleek and user-friendly interface that's designed to make your music exploration a breeze. Say goodbye to complicated menus and hello to an intuitive experience that puts the focus back on the music you love. Oto Music knows how to create the perfect ambiance, bringing your favorite songs to life in a way that resonates with your soul.
But what really sets Oto Music apart are its incredible features. Picture this: a powerful equalizer that lets you fine-tune the sound to match your unique preferences. Whether you want to feel the bass reverberate through your body or savor the delicate nuances of a soothing melody, Oto Music empowers you to craft your perfect audio experience.
And here's the icing on the cake: Oto Music seamlessly integrates with popular music streaming platforms, making it a one-stop destination for all your musical needs. No more switching between apps or searching for that elusive song. With Oto Music, you can dive into an expansive library of tracks and create personalized playlists that soundtrack your every mood.
YouTube Music- Best Music Player On Google Play Store
Get ready to embark on an extraordinary musical journey with YouTube Music—the app that brings you the best of both worlds: music and videos. It's like having your very own backstage pass to the world of music, right in the palm of your hand.
YouTube Music opens the door to a vast library of songs spanning every genre and artist you can imagine. Whether you're craving the latest chart-toppers or seeking hidden musical gems, this app has got you covered. It's a treasure trove of musical delights that will satisfy even the most discerning music lover.
But here's where it gets even better: YouTube Music seamlessly integrates with the YouTube platform, allowing you to enjoy not only official music videos and live performances but also a captivating array of covers, remixes, and creative content from talented users. It's a musical wonderland where every track becomes an experience.
And let's not forget about the magic of personalization. YouTube Music gets to know your musical preferences and serves up tailored recommendations just for you. It's like having a virtual DJ who understands your unique taste and introduces you to new tracks and artists that resonate with your soul.
To make your music experience even more convenient, YouTube Music offers offline playback and an ad-free listening option with a subscription. This means you can take your favorite tunes with you wherever you go, without interruptions or data worries. It's all about giving you the freedom to enjoy your music, your way.
So, if you're ready to dive into a world of unlimited streaming music, YouTube Music is your perfect companion. Get ready to discover new sounds, relive old favorites, and create unforgettable playlists that soundtrack your life. With YouTube Music, the power of music is truly in your hands, and truly one of the best music players available on Android.
VLC for Android
VLC for Android is the ultimate app that brings a whole new level of music enjoyment to your fingertips. Get ready to immerse yourself in a world of incredible sound and endless possibilities.
With VLC for Android, you can listen to your cherished tunes wherever your adventures take you. Whether you're traveling, hitting the gym, or simply relaxing at home, VLC for Android ensures that your music is always there to uplift your spirits.
What sets VLC for Android apart is its remarkable ability to handle a wide range of audio formats. From popular formats like MP3 to high-quality ones like FLAC, VLC for Android supports them all, so you never have to worry about compatibility issues. It's like having a versatile music player that can adapt to all your musical preferences.
But what truly makes VLC for Android shine is its customization options. Tailor your music experience to your liking with the powerful built-in equalizer. Fine-tune the bass, tweak the treble, and find that perfect balance that resonates with your ears. It's all about creating a personalized sonic journey just for you.
Gone are the days of struggling to manage your music collection. VLC for Android simplifies it all with intuitive playlist features. Organize your favorite tracks, create mood-based playlists, and let the music take you on an unforgettable journey. It's your personal soundtrack for every occasion.
And here's the best part: VLC for Android seamlessly integrates with popular cloud storage platforms. Whether your music is stored on Google Drive, Dropbox, or another service, VLC for Android effortlessly streams it directly to your device. Your entire music library becomes readily accessible, no matter where you are.
Phonograph Music Player
When it comes to finding the perfect music player that strikes the right balance between simplicity and powerful features, Phonograph Music Player steals the spotlight. It's not just an app; it's like having a trusted music companion by your side, ready to immerse you in a world of captivating melodies.
What sets Phonograph Music Player apart is its user-friendly interface that effortlessly guides you through your music collection. Navigating your tracks, albums, and artists becomes a breeze, making it a joy to find that perfect song for every mood.
But Phonograph goes beyond functionality. It pays attention to the little things that elevate your music experience. Prepare to be visually amazed as the app automatically fetches high-resolution album artwork, transforming your library into a stunning gallery of music.
But it's not just about looks; it's about sound quality too. Phonograph Music Player delivers an audio feast, ensuring that every note and lyric resonates with crystal clarity. Fine-tune the sound to match your preferences using the powerful equalizer and other audio-enhancing features. Get ready to be swept away by the immersive sonic experience.
In addition to its elegance and functionality, Phonograph understands the importance of simplicity. Say goodbye to messy music organization. The app effortlessly syncs with your device's music folders, taking care of all the organizational heavy lifting for you.
MediaMonkey
If you're on the lookout for a versatile music player that gives you complete control over your listening experience, you might like MediaMonkey. This feature-packed app empowers you to explore, organize, and enjoy your music library like never before.
MediaMonkey puts the power of listening to music right at your fingertips. With its robust set of features, you can dive deep into your music collection, discovering hidden gems and rediscovering old favorites. It's like having your own personal music curator, always ready to surprise you with the perfect song.
What sets MediaMonkey apart is its exceptional organization capabilities. The app analyzes and tags your music files, ensuring that your library is neatly organized and easily searchable. No more endless scrolling or searching for that elusive track. With MediaMonkey, your music is just a few taps away.
Pulsar Music Player
Pulsar Music Player is your gateway to a world of melodic bliss. This exceptional music player is designed to captivate your senses and create a seamless connection to your beloved tunes, making every listening experience truly magical.
Pulsar Music Player understands your musical preferences like a close friend. With its intuitive and user-friendly interface, navigating through your music library becomes a breeze. Find your favorite tracks effortlessly and let the music take you on a captivating journey.
What sets Pulsar apart is its ability to tailor itself to your unique taste. It learns from your listening habits and creates personalized playlists that perfectly complement your mood and preferences. It's like having a musical companion who knows exactly what songs will uplift your spirits and soothe your soul.
But it's not just about intelligence; Pulsar Music Player delivers exceptional audio quality that brings your favorite melodies to life. Whether you're a fan of gentle melodies or energetic beats, Pulsar ensures that every note is crisp and every rhythm resonates deep within you.
And the best part? Pulsar gives you the power to customize your listening experience. Fine-tune the sound with the adjustable equalizer, creating the perfect balance that matches your mood and surroundings. Create playlists for special moments and let Pulsar be the soundtrack to your life's stories.
More From Mirageportal