Best Hollyberry Cookie Toppings Build
Best Hollyberry Cookie Toppings- Solid Almond Toppings (Recommended)
Hollyberry Cookie Toppings- Healthy Peanut (Alternative)
The best toppings for Hollyberry Cookie are undoubtedly a complete set of solid almond toppings (5X solid almond). It allows her to absorb more damage to protect her allies by increasing her damage resistance.
If you don't have solid almond toppings with good stats– healthy peanut is also a good alternative to increase her HP.
Best Hollyberry Cookie Toppings: Solid Almond Toppings (Recommended)
The best Hollyberry Cookie toppings are a full set of Solid almonds toppings. This was due to her skill, she might be the best defense-type cookie in the game right now.
Hollyberry was once the best, but when some new defense-type cookie came out, our Hollyberry seems forgotten by many players. For the reason that her skill is very simple and the others just have better skills.
But now, Hollyberry has received a revamp, her skill improved a lot, and a lot of skill effects are added. Based on the latest update, Hollyberry is once more the best defensive cookie in the game.
With all of her new skill effects, a full set of solid almond toppings was still the number one toppings build for Hollyberry Cookie.
It will increase her damage resistance, allowing her to absorb more damage from the enemies. It is also essential because Hollyberry Cookie's skill gives her the ability to absorb the portion of the damage that her allies receive.
With lower damage resistance your Hollyberry cannot take to absorb massive damage from her allies.
Healthy Peanut Toppings (Alternative)
If you don't have good solid almond toppings, a healthy peanut might be a good alternative.
It will increase your Hollyberry HP exponentially, Hollyberry already has a passive skill that allows her to receive a damage-resistant buff. Increasing the HP of your Hollyberry is also a good option, HP + Damage reduction was a good combo.
It will also make your Hollyberry cookie tankier, but I personally still choose solid almonds compared to healthy peanuts.
The healthy peanut toppings build for Hollyberry were also an alternative topping that you can use.
Hollyberry SubStat
For choosing the best toppings for your Hollyberry Cookie always choose toppings that have a good substat and level it up to a maximum level. For Solid almonds, the best Hollyberry Cookie substat was damage resistant, DEF, and HP.
For the healthy peanut just the same for solid almonds which are damage-resistant, DEF, and HP. You can also choose cooldown for a quicker skill cooldown.
Related Content:
Hollyberry Skill
Skill Name: Oath on the Shield
Skill Description: Upon using her skill, Hollyberry will charge directly at the enemies. She will absorb some portion of the damage that her allies received except indirect damage and periodic damage.
Her skill will also reduce the Crit received for the whole party, and gain a stack of Seed of Life for every critical hit she receives. After gaining maximum stacks of Seed of Life it will bloom into Berry of life that can enhance the succeeding skill.
Hollyberry Cookie Skill cooldown is also enhanced to 1 second at the first start of the battle, meaning she will always be the first cookie to cast skill, especially in PVP.
Aside from all of her skill effects, Hollyberry also has a passive skill that enhances her damage resistance by a percentage. She will also become resistant to interrupting effects when using her skill.
Skill Effects:
Single hit DMG: 185.5% (+2.53% DMG per level)
Additional DMG to targets immune to Stun: 405.0% of ATK
DMG ignoring DMG Reduction to targets immune to Stun: 50.0%
Hollyberry Cookie Story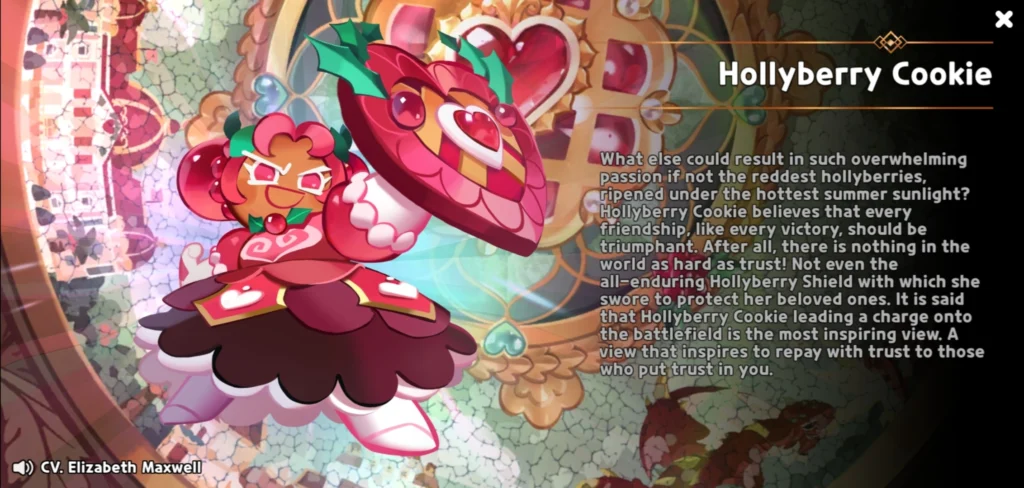 What else could result in such an overwhelming passion if not the reddest hollyberries, ripened under the hottest summer sunlight? Hollyberry Cookie believes that every friendship, like every victory, should be triumphant. After all, there is nothing in the world as hard as trust! Not even the all-enduring Hollyberry Shield with which she swore to protect her beloved ones.

It is said that Hollyberry Cookie leading a charge onto the battlefield is the most inspiring view. A view that inspires to repay with trust to those who put trust in you.

Cookie Run Kingdom
How To Get Hollyberry Cookie?
Hollyberry is an Ancient Cookie, she is one of the rarest Cookies in the game. For that reason, there is a very limited way to get one even her soulstone.
The only way to get Hollyberry is through gacha, it is the only way to get one. You can also acquire some of her soul stone in the Arena medal shop by chance.
Other Ancient cookies are randomly featured in the arena store, always check if Hollyberry soul stone is available in the shop to get one.
More Topping Guide