Sorbet Shark Cookie Toppings Build
Best toppings for Sorbet Shark Cookie: 5X Searing Raspberry
Alternative Toppings: 5X Swift Chocolate
The best toppings for Sorbet Shark Cookie is 5X searing raspberry to enhance its damage as an ambush type cookie. As an alternative 5X swift chocolate toppings is also good, these toppings build can improve its skill cooldown to use it more frequently.
Best Sorbet Shark Cookie Toppings: 5X Searing Raspberry Toppings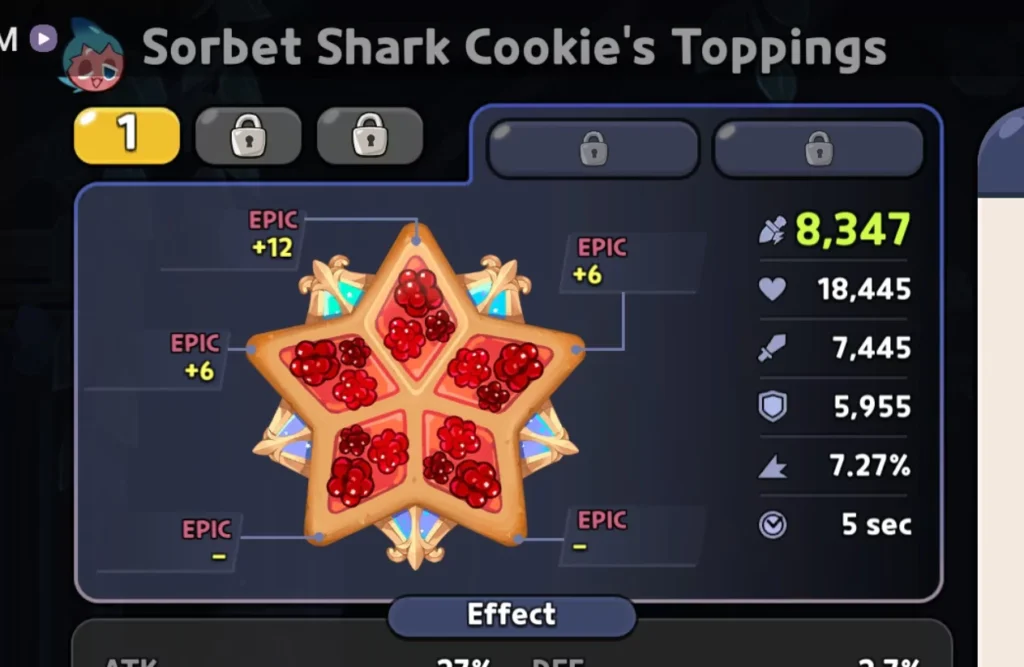 Since the Sorbet shark cookie is an ambush type of cookie. It will be one of the primary damage dealers when adding to a team. As a damage dealer, we must capitalize on it. Using a full set or 5X searing raspberry toppings can maximize the amount of damage it can deal. You can also choose raspberry toppings with a +12 upgrade with an additional attack attribute for maximum results.
Alternative Toppings- 5X Swift Chocolate Toppings
If you don't have high-level raspberry toppings that you can use for your sorbet shark, you can also use a full set or 5X swift chocolate toppings. These toppings build will allow you to use the skill of your sorbet shark cookie more often, by decreasing its skill cooldown.
It is also better if the swift chocolate toppings that you use have the additional attribute of skill cooldown for maximum cooldown effect for your sorbet shark cookie.
Related Content:
Sorbet Shark Cookie Skill- Shark Splash (Skill Name)
Sorbet shark cookie ambushes two enemies in the front line and deals an are damage or AOE. It skills also deals additional damage to the two enemies with the highest max HP within its skill range. If the enemy is a Cookies, the additional attack will serve true damage based on the enemy's Max HP but it cannot exceed 300,000. If enemies are not Cookies the additional damage will be dealt as regular damage.
Skill Effects
Single hit DMG: 128.1%
Fixed DMG relative to Max HP (Cookies): 18.0% (+0.2% per level)
Single Hit DMG (Others): 378.0% (+5.15% DMG per level)
How To Get Sorbet Shark Cookie
Gacha
If you want to add a Sorbet shark cookie to your collection or use it for PVE or PVP, there are a few ways to get one. You can get one by trying your luck on the gacha. Try to have a 1X draw for 300 crystals or a 10X draw by consuming 3000 crystals.
Mileage Shop
Aside from gacha, you can also get a sorbet shark cookie by buying its soul stone in the mileage shop. You will need at least 2000 mileage points to buy 20 soul stones and summon a sorbet shark cookie.
World Exploration Dark Mode
The third way to get a sorbet shark cookie is by completing world exploration dark mode. The stages that need to clear are stages 1-13 and stages 12-27 in dark mode. This method does not guarantee that you can obtain sorbet shark soul every time you clear the stages. Soul stone can only be obtained by this method by chance.
Also see:
Sorbet Shark Cookie Story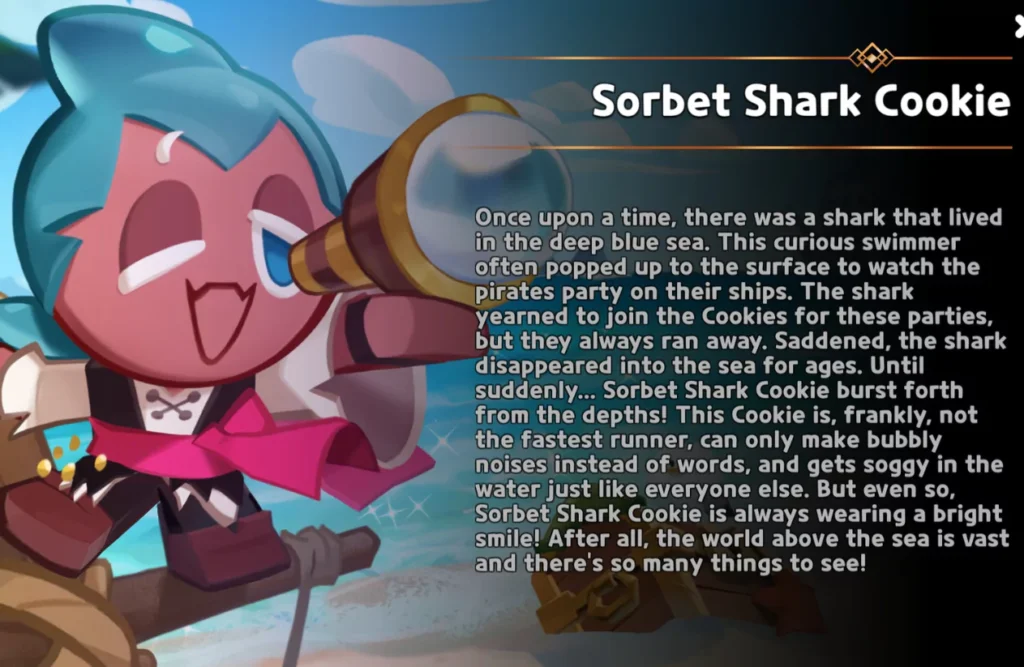 Cookie Run: Kingdom
More From Mirageportal