Best Prune Juice Cookie Topping Build
Best Prune Juice Cookie Toppings Build- Searing Raspberry Toppings (DMG Build)
Prune Juice Cookie Toppings- Solid Almond Toppings (Tanky Build)
Prune Juice Mix Toppings- Solid Almond + Searing Raspberry
Prune Juice Cookie Toppings Overview
There are three kinds of build for Prune
Best Prune Juice Cookie Toppings Build- Searing Raspberry Toppings (DMG Build)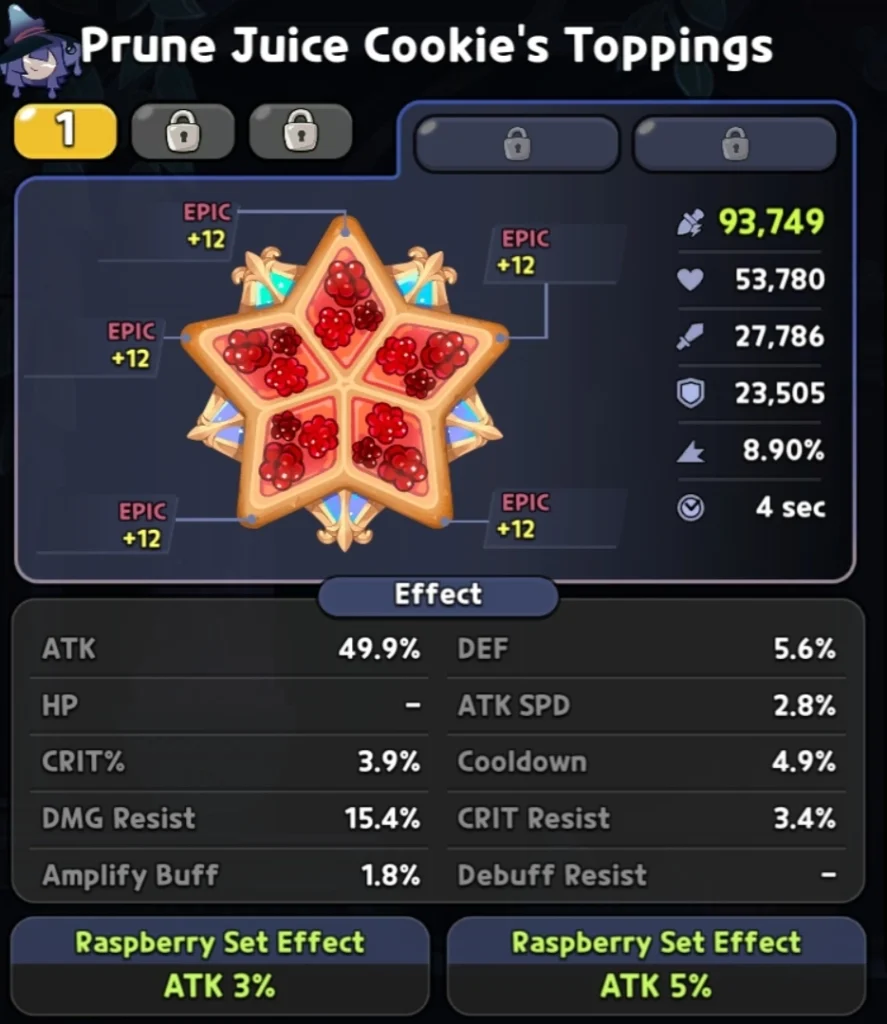 The best Prune Juice Cookie toppings build is a complete set of searing raspberry. It will increase her overall damage in PVP and PVE, by increasing her attack to amplify the deterioration of her poison.
Prune Juice has the potential to deal massive damage to enemies because her poison is hard to dissipate, even if Prune Juice was eliminated her poison will continue to deal damage the enemies for some time.
She also has a poison damage boost debuff to increase her poison damage even more. Prune Juice has a different kind of poison damage and the searing raspberry toppings will ensure that you can get the maximum damage from the poisons of your Prune Juice Cookie.
Prune Juice Cookie Toppings- Solid Almond Toppings (Tanky Build)
If you are in PVP and you want your Prune Juice to last longer on the battlefield, consider using a complete set of solid almond toppings. As I've mentioned that even Prune Juice's poison will continue even if she was eliminated., but it is much better if she survives much longer.
A complete set of solid almond toppings can prolong the life of your Prune Juice on the battlefield by increasing her damage resistance. If you want to have a damage boost even using a solid almond use toppings will attack substat or amplify buff.
Those kinds of substat will give at least better damage, but if you want to choose pure damage, you can consider our first toppings build option.
Prune Juice Mix Toppings- Solid Almond + Searing Raspberry
If you like to have a more balanced build for your Prune Juice Cookie, you can mix the two toppings that I've mentioned above.
I recommend using three searing raspberry and two solid almond toppings for your Prune Juice. To have the benefits of an attack boost from the three pieces of Raspberry plus set A effects plus the damage resistance of the two solid almonds.
These toppings build can be effectively used in PVP for your Prune Juice to inflict more poison damage and also increase her damage resistance to stay alive on the battlefield.
Related Content:
Other Info About Prune Juice Cookie
Prune Juice Cookie Skill
Skill Name: Prune Juice Potion
Skill Description: Prune Juice regular attack throw prune juice bottle at the farthest enemies and poison the including the nearby enemies. When using the skill Prune Juice Cookie will throw a giant prune juice bottle that contains poison.
When the poison bottle breaks it will inflict a poison damage boost, Sticky Goo debuff, and poison damage, it will also summons creatures called "Pure Jellies".
The summoned creatures have an HP that will be reduced based on the number of hits. The Prune Jellies will also spread prune poison gas to nearby enemies while they attack their target. The creatures will also be immune to any kind of periodic effects and will ignore the shield or healing of enemies.
Skill Effects:
Prune Juice Poisoning: 76.9% DMG every 2 sec for 10 sec
Giant Prune Juice Poisoning: 49.0% DMG every 1 sec for 10 sec
Poison DMG Boost: +30.0% Poison DMG for 10 sec
Sticky Goo: Sticky Goo debuff will be dispelled instead of other debuffs for 15 sec; stacks up to x1
Prune Jellies: 95.0% of ATK, withstands 30 hits
Prune Jellies Poisoning: 45.9% DMG every 2 sec for 20 sec
Prune Jellies Prune Gas Poisoning: Activated every 3 sec, 36.7% DMG every 2 sec for 20 sec
Prune Juice Cookie Story
When you smell the fragrant yet subtle scent of plums across the door at the top of the endlessly spiraling staircase, you know Prune Juice Cookie is brewing his magic potions! This Cookie, made from the richest and most potent prune juice, is the best potion maker at the Parfaedia Institute.

His potions are amazingly effective-just a single sip will have you feeling the dizzying effects! They say that his outstanding talent is not the sole reason he picked the efficient minimalistic art of potions over fancy, sweet dessert magic… But perhaps it's not so smart to snoop around the genius potion maker, as his charms and theatrics will persuade you to buy all of his potions! Even if you don't understand his true intentions, the effort he puts into his potion-making is evident in the ever-boiling cauldron and notebooks covered in potion stains.

Cookie Run Kingdom
How To Get Prune Juice Cookie
For this day of writing, the only way to get Prune Juice Cookie is through spending crystals in gacha. Based on your luck, you can expect to spend 3000- 2000 crystals to get on Prune Juice Cookie.
If you want a higher promotion, you'll need a lot more crystal to get a sufficient amount of its soul stone based on your desired promotion level.
In the near future, its soul stone might be available in World Exploration, Rainbow Shell Gallery, Sea Side Market, Guild Medal Shop, or even Arena Medal Shop. But for now, since Prune Juice is a new cookie it was only available in gacha.
More Cookie Toppings Guide