First of all, Welcome to the world of Web publishers !!, for some who is just curious how web hosting work, and for some who are still finding the best free web hosting for their website this article is for you.
Like the one you did, I also experience searching for a free web hosting to start my website back in the days when I was just starting to build my website, but it is really hard to find a completely free web hosting because almost all of the web hosting companies abandoned there free web hosting service until I found what I have been searching for.
Where did I host my website for free?
After countless search and determination of finding a way to get my first website online, I finally found what I have been searching for, the most reliable and completely free web hosting site and Yes you read it right, It is a 100% completely free web hosting with many useful features and importantly NO ADS !!
The web hosting company that I've been talking about is the Awardspace.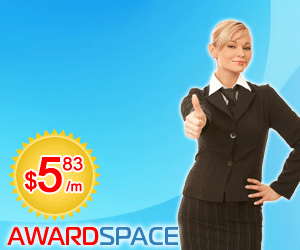 ---
Who is Awardspace?
Awardspace is a web hosting company that pioneer of free hosting and as of today when some web hosting companies abandoned their free web hosting service Awardspace stays to their promise and goal that everyone should make their idea and turn into a website.
Does free web hosting worth it?
I will ask you a question, what is your main reason for finding a free web hosting? Maybe you are a publisher with a limited budget and all you want is to show the world your ideas and your talent and that's where Awardspace free web hosting worth.
Even for a free user, Awardspace will give you a lot of useful features that you can't find in any free web hosting out there.
Awardspace Free web hosting features

CMS installer
Awardspace have their own CMS installer which is convenient and time-saving, all you have to do is to sign up for free web hosting account,
After you sign up, you can choose from different CMS like Drupal, Joomla, WordPress once you choose your preferred CMS you can use the Awardspace Zacky installer, which is a one-click CMS installer and your website will be ready in just 5 minutes.
100% AD-Free and no Expiration Free web hosting
Even for free users, Awardspace guarantees that their free web hosting is 100% AD-free, so you don't have to deal with some annoying pop-up ads, and once you create a free account there is no expiration.
Yes, you read it right as long as you want to use their free hosting platform you can host your website in Awardspace.

---
Zacky Website Builder
In case you don't want some of the famous CMS like WordPress, Drupal, and Joomla and you want to create a unique website you are free to use Zacky website builder for both paid and free web hosting accounts.
Also, users can be used from premade designs or create their designs for a more unique kind of website.
99% Network Uptime
As a Pioneer of free web hosting Awardspace gives a fair and best service as possible even for their free hosting users, it is guaranteed to provide 99% of Network uptime so users don't have to worry about that their website will experience downtime and losses some traffics.
Web-Based File Manager
Awardspace is a web hosting company that valued their costumer so much that even for a free hosting, they gave as much usability as possible, both premium and free user can benefit from their Web-based file manager tool, wherein the users can upload file, move file, folders, and creating files and directories with ease, this is very convenient and user-friendly for those who are not an expert web developer like me.
24/7 Customer Support
This is one of my favorite features of Awardspace web hosting because their customer support is pretty good in assisting and helping their costumers, they help me fix and give some advice every time that I commit a mistake and need help on my website.
They even help me fix when my website is in trouble when I accidentally upload a file that ruins my website existence online and take note that they help me with that problem even my website is still using their free account back then.
Free Short Domain
A domain name is so important for your website to be recognized and Awardspace web hosting will give you free short domain with dx.am extension, for example, is the Blogspot and wordpress.com if your using their free domain it will look like this (yourname.blogspot.com or yourname.wordpress.com) which is kinda long domain name right?
But with Awardspace free domain your free domain will look like this (yourname.am or yourname.dx) which is shorter than other free domain out there.
1000MB Disk Space
Once you used their free web accounts you will be given a 1000MB of Disk space which is fairly enough to start a small website, if your site is a blog 1000MB is enough to give you all the page you need and write some blog articles like what I did when my website is still using its free hosting account.
User-Friendly cPanel
Whether your a free users or not you can always used their user-friendly control pane which is convenient and easy to understand even if you are a complete beginner, it also add drag and drop features so you can arrange the tools you used most so you don't need to find or scroll down every time you will need your favorite tools.
PHP, MySQL Support
This one is for advanced users, and if you know what PHP and MySQL, well booth free and paid users can benefit from wide support for PHP and MySQL, but for a free users you cannot change PHP setting, unlike for the paid users they can switch from PHP 5.3, PHP 5.4, PHP 5.5, PHP 5.6, PHP 7.0, PHP 7.1 and PHP 7.2.
For Awardspace Premium but affordable Web hosting ?? Visit Awardspace Website
Bottom Line
Awardspace free hosting is great to start your first website and have your online presence for your business, their features are so good that you can create a fully functioning website without spending even a single cents.
But if you want to have more options like changing your PHP setting that you cannot do in free accounts, you can upgrade from their premium as I did, their premium hosting is affordable and you will get a free lifetime (.com) domain, free SSL, unlimited space, unlimited traffics and much more in their selected paid hosting account.
From my own experience on Awardspace web hosting, I don't have any complain on their web hosting services from free to their premium hosting plans.